| | |
| --- | --- |
| | MI6 reports from the star-studded launch of the new Bond exhibition at the Barbican yesterday... |
Designing 007 Exhibition Opens
6th July 2012
Last night saw the official opening of "Designing 007 - Fifty Years of Bond Style" at the Barbican in London.
For this exhibition, Bond producers EON have swung open the doors to their extensive archive and given the Barbican unparalleled access to their collection of costumes, props, models, storyboards, and production designs.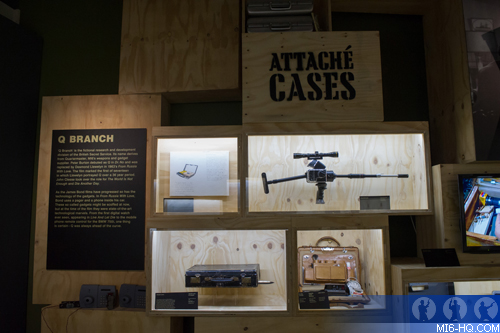 Above: Display of 007 attaché cases. Photo © Jane Hobson.
Oscar winning costume designer Lindy Hemming, who was responsible for James Bond's wardrobe from "GoldenEye" to "Casino Royale", has teamed up with fashion historian Bronwyn Cosgrave as the guest curators of the exhibit, and together they have meticulously selected over 400 items, many of which are on public display for the very first time.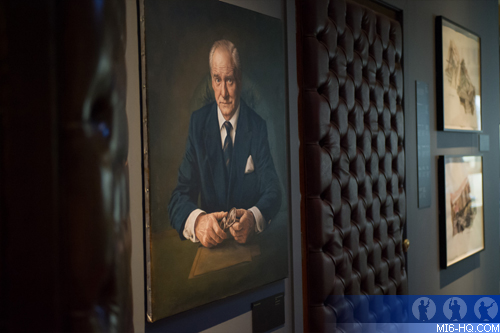 Above: Portrait of Bernard Lee as M aside his iconic leather-covered door. Photo © Jane Hobson.
As the name suggests, the exhibition charts the design process over the past fifty years of the James Bond films, from "Dr. No" to the upcoming "Skyfall". Each design discipline is looked at, from Ken Adam's seminal production sketches through to the iconic props made by the art department, including Bond's briefcase from "From Russia, With Love" and the iconic Aston Martin DB5, which opens the exhibition. Unsurprisingly, with a fashion historian and a costume designer as curators, there is an emphasis on costuming, with many original costumes and some lovingly recreated pieces on display.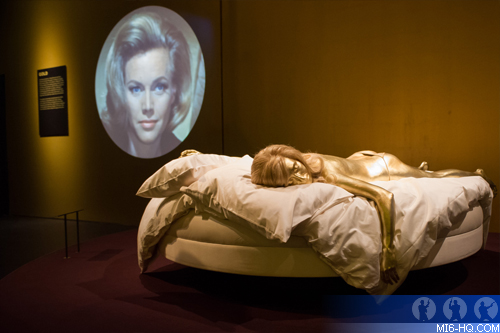 Above: The model Golden Girl at the entrace to the gold room. Photo © Jane Hobson.
Rather than presenting the exhibits chronologically, the exhibition has been sectioned off into themed rooms. Whilst this does present something of a disjointed continuity, it also allows the costumes, props and production sketches to be grouped together in a way that is satisfyingly complimentary. The Gold Room, for example, is a veritable vault of golden treasures, from Scaramanga's gleaming Golden Gun to a life-sized and unnervingly accurate recreation of Shirley Eaton's Jill Masterson, painted head to toe in gold. It's in the Casino however, where the costuming is really given a chance to shine, with enough tuxedos, evening gowns and sparkling jewellery - including a 30 carat white diamond necklace worn by Teri Hatcher's Paris Carver in "Tomorrow Never Dies" - to thrill the pickiest of Bond fans.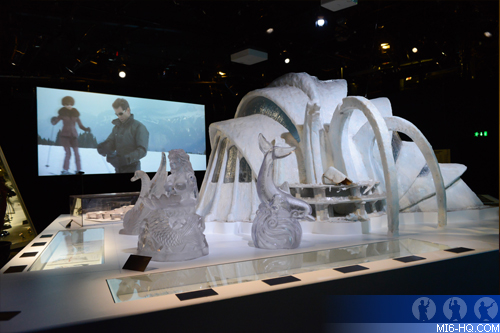 Above: Inside the ice-palace room. Photo © Jane Hobson.
Whilst not to everyone's tastes, the Barbican itself offers something of a perfect setting for the exhibition; its brutalist '60s architecture is redolent of Ken Adam's designs of Blofeld's secret lairs, and it acts as a very complimentary backdrop to the displays.
However, the exhibit has plans to evolve and to travel, with a promise of more props to be included after the release of "Skyfall" and a world-wide jaunt worthy of Bond himself. Next stop, Toronto.

The exhibition does occasionally fall flat, perhaps to the disjointed nature of the exhibition space provided for it - the Ice Palace room is accessed only by an elevator down to the sub-basement - but overall, there is a sense of fun throughout, and it never feels like it is taking itself too seriously. Which is as it should be as, after all, Bond should always be about entertainment.

Right: Golden girl Shirley Eaton stands for a photo next to her life-size model. Photo © Ben Williams.



Among those who attended the launch of the event were producers Michael G. Wilson and Barbara Broccoli; Bond alumni Norman Wanstall, John Glen, David Arnold, Arthur Wooster, Anthony Waye, John Richardson, Chris Corbould, Debbie McWilliams, Lindy Hemming, and Peter Lamont; screenwriters Robert Wade and Neal Purvis; co-stars Margaret Nolan, Shane Rimmer, Goldie, Caroline Munro, Molly Peters and Valerie Leon.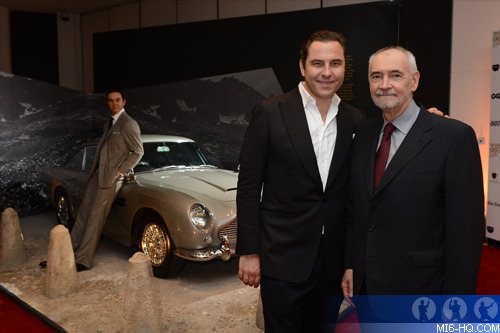 Above: "Little Britain" star David Walliams poses with Bond producer Michael G. Wilson at the event launch.
So, why not celebrate fifty years of James Bond by visiting the Barbican? Designing 007 - Fifty Years of Bond Style is open from 6 Jul - 5 Sep between 11am - 8pm (Thu until 10pm). Tickets cost £12 for a standard admission, concessions £10 and £8 for under 16s.