| | |
| --- | --- |
| | The new James Bond continuation novel "Devil May Care" has been unveiled in London on HMS Exeter with author Sebastian Faulks and cover model Tuuli Shipster... |
Bond Is Back In Devil May Care
27th May 2008
Model Tuuli Shipster, who features on the cover of the new James Bond continuation novel "Devil May Care", donned a poppy-red catsuit for her speedboat ride down the Thames in London. Escorted by Her Majesty's finest from the Royal Navy and over flown by Lynx helicopters, Tuuli carried a specially commissioned Samsonite case containing the first seven copies of Sebastian Faulks' novel to HMS Exeter, moored near Tower Bridge. The scene, which was reminiscent of Daniel Craig's unveiling as the new 007 back in October 2005, had the gathered press touting it as "the most hyped literary event of the year".
The Royal Navy were happy to loan HMS Exeter to event for the day, as the fictional James Bond once served upon the very same ship and held the rank of Commander before joining MI6 and being designated the number 007. Faulks said it was a "pleasure to be aboard the ship Bond himself sailed on".
"I can remember Uncle Ian's books being delivered wrapped in brown paper and string by a postman on a bicycle," said Lucy Fleming, niece of the late Ian Fleming. "The Royal Navy has upped the ante a little."
To honour Bond's code name 007, Faulks signed seven copies of the book in the presence of Fleming's nieces, Lucy Fleming and Kate Grimond, which were then taken under guard from HMS Exeter in a Bentley motorcade to Waterstones in Piccadilly ahead of publication tomorrow.
"We didn't want a thriller writer," said Lucy Fleming, "We wanted someone who would read Ian's books and see how he did it. Sebastian has thought himself into Ian's mind. Ian would be terribly amused that somebody like Sebastian is keeping his legacy going. We wanted it to be a celebration of Ian's writing, so to get somebody of his caliber says a lot about Ian and James Bond."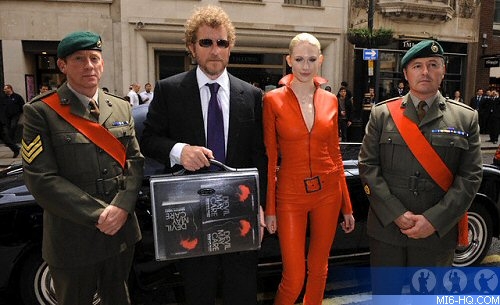 Above: The Bentley motorcade arrives at Waterstones in Piccadilly
Faulks said he adopted Fleming's writing pace, churning out 2,000 words a day for six weeks. He says the resulting novel is about 80 percent Fleming in style. "I found writing this light-hearted book more thrilling than I had expected. I hope people will enjoy reading it and that Ian Fleming would consider it to be in the cavalier spirit of his own novels and therefore an acceptable addition to the line," Faulks said.
However, he would not be writing another Bond book. "One tribute, one centenary, one book," he said.
The book's publishers - Penguin in Britain, Doubleday in the United States - are keeping its contents under wraps until it hits stores Wednesday. This much is known: the book is set in 1967, directly after Fleming's last novel and portrays the aging secret agent as vulnerable and damaged but with an undiminished sex drive. The adventure is set to the backdrop of the Cold War and features Paris, Rome and the Middle East. There is also the requisite amount of torture and romance. Faulks said that once the setting was chosen, the subject followed quickly -- drugs, a subject Fleming largely ignored. Lucy Fleming revealed Bond's love interest was named Poppy, and the villain, named Gormah, was "a bit like Blofeld or Dr No - really sinister".
The hardcover print run in Britain and the United States is reported to be 400,000 copies. Devil May Care is published on Wednesday 28th May, which is the centenary of the birth of Ian Fleming, and will go on sale that day for the first time at Waterstone's Piccadilly (opening at the earlier time of 8am). More launch events are also planned at Borders on Saturday 31st May.