The Men Who Made Moonraker
27th April 2015
In the summer of 1979, Ken Adam flew to Washington D.C. to meet the press of the nation's capital and promote 'Moonraker'
By MI6 Staff
---
The Men Who Created 'Moonraker' - 28th July 1979 (The Afro American)
Just as the eleventh James Bond film was opening in America, EON Productions flew Ken Adam to Washington D.C. to meet the press of the nation's capital and promote 'Moonraker.'
'Moonraker' starring Roger Moore as James Bond 007 has to be one of the most spectacular films ever released in this or any other season.
The United Artists blockbuster, produced by Albert R. Broccoli and directed by Lewis Gilbert racked up $22 million in the first days at 86 theaters across the country.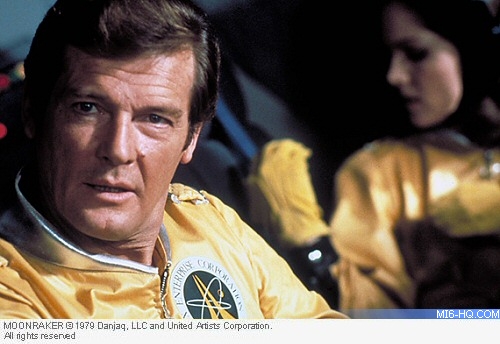 On Friday the 13th, United Artists reserved a suite at the Watergate Hotel in D.C. for the Baltimore and Washington press to interview two of the artistic genius who are responsible for 'Moonraker' and other Bond films. They flew in from New York where they put on a similar demonstration at the Museum of Modern Art.
Ken Adam, the Production Designer for 'Moonraker' is the motion picture industry's greatest designer was the originator of more than 50 sets including the incredible $500,000 space center constructed on the outskirts of Paris. He brought along his original sketches and designs. He then explained how they were constructed.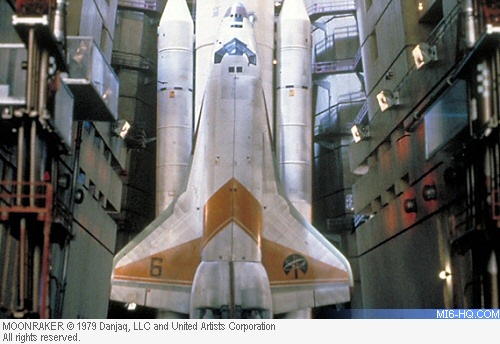 Maurice Binder, who has designed the main titles for 'Moonraker' as well as more than 52 films and most of the Bond pictures shower how he has created the special effects using underwater photography and acrobats.
Binder's presentation was on film and he started with the Bond pictures with 'Dr. No,' 18 years ago. He laughingly explained that he designed the love scene you will see in 'Dracula' while he had a little time off from 'Moonraker.'
Think back to Shirley Bassey singing 'Diamonds Are Forever' and how that picture opened with shots of girls in all kinds of diamonds and you get the idea of Maurice Binder's work. For 'You Only Live Twice' he photographed living lava with Nancy Sinatra singing the title tune.
Ken Adam was most fascinating to talk to. As Production Designer for 'Moonraker' he says he goes back to never-never land to create magic which is more exciting than reality. TV audiences today are tired of real landscapes and the designer has to create a concept.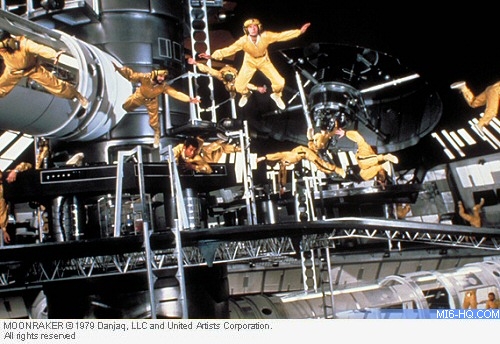 Watching his sketches turned into actual sets asked Adams if he based his designs on what is happening in the space program in reality... Or, if after the space people see his designs, they copy from him. Adams laughed.
When you see 'Moonraker' look for the 'pipe and tube' designs. Adam says he just happened to be in a pie period so a lot of the sets are actually constructed around pipe forms.
Moonraker
Share The Story