Exclusive Extract - Shooting 007
2nd September 2014
Read an exclusive extract from cinematographer Alec Mills' new book Shooting 007
By MI6 Staff
---
Exclusive Extract: Shooting 007 & Other Celluloid Adventures - Alec Mills
The fairy tale continued; perhaps 'Licence to Thrill' would be a more appropriate title when it comes to describing my life with James Bond. In twenty years of service with the secret agent I would learn to accept his various guises, which for me would change on three occasions.
Whatever mask 007 chose to wear I would always remember the fights we shared together and the bruises suffered, even when taking on the challenge of a Japanese swordsman. There were times when I played the villain in the fight, holding my handheld Arri IIC camera with the focus set on 007, then the same thing again in reverse, but this time filming the villain. The flexibility of the camera harness gave me the freedom to move around, adding realism to the fight. However, there were times when the so-called choreography did not go quite as planned, as my wife would testify when on one occasion I came home with a black eye because I became too ambitious with the camera and somehow got tangled up in the brawl. Needless to say, she refused to believe my explanation.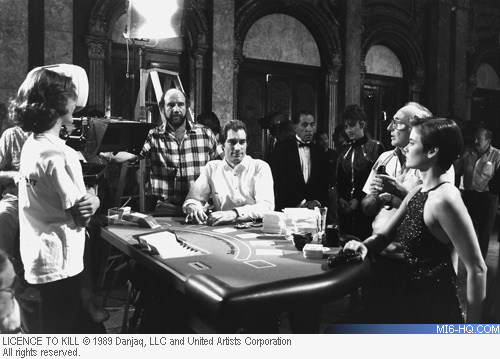 With these close ties soon to end, even though I did not realise it at the time, I would miss the many punch-ups which James and I shared together, so perhaps this is also my last opportunity to relive those past 007 moments with ageing colleagues, who agree that a little exaggeration is acceptable with old tales. Reminiscing about the past would leave me with a great deal of satisfaction, and on reflection I was grateful for my own survival after the close calls we had shared together. Now as cinematographer I could watch the punch-ups from a distance and in relative safety, with the camera-operating responsibilities now handed over to Michael Frift.
Licence to Kill, written with Timothy Dalton's more hard-edged depiction of the agent in mind, was a violent film about drugs, the seedy world of its manufacture, cartels and distribution. John Glen captured the atmosphere so that you could sense the mood and the smell of danger with the cover-ups and betrayal, yet for all John's efforts this was be his last mission with the secret agent, as it would be mine.
For tax reasons Eon Productions had been forced to leave Pinewood for sunnier climes. This time we would be based at Churubusco Studios in Mexico City with locations in Cancun, the Florida Keys, Key West, Mexicali and Acapulco, which would not only provide the usual combination of technical challenges but also one or two occurrences that were less easy to explain.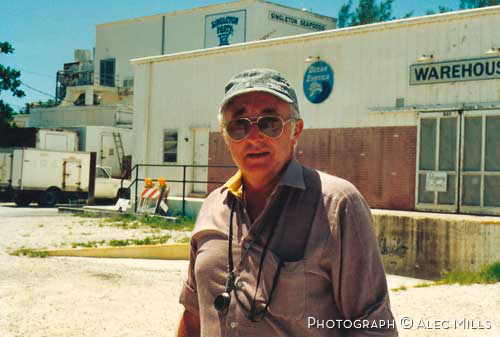 I was not in a position to recce a location in Acapulco where filming would be a challenge for any cinematographer. It was a beautiful luxurious home owned by a friend of Cubby Broccoli, and the interior of the property appeared to be built entirely out of white marble, the complete reverse of the problem I had experienced with Denis Lewiston on Hot Target. The doors opened out onto the bay with Acapulco across the glistening water; there was a waterfall one could only dream of with a funicular down to the water line where a private motor boat waited to transport guests back to the mainland. I pinched myself; I was in heaven. However, although this privileged lifestyle was pleasing to the eye, for a cinematographer without the help of a generator there would be little chance of balancing the interior exposure to that of the spectacular view of the exterior. Although I was concerned by this, in the end 'Lady Luck' came to my rescue in the form of reflected light bouncing off the glossy marbled structure surrounding us – not perfect, but it would still be my saving grace. We never stop learning in the film industry and grateful cinematographers take advantage of any unexpected aids.
One of the more cultural locations used was Ernest Hemingway's old home in Key West, where M, played for the last time by Robert Brown, 'revokes' 007's licence to kill. I use that word as the original production title had been 'Licence Revoked', but due to American understandings of the word the title was eventually changed to Licence to Kill – another case of our two countries divided by a common language! As a result, Bond finds himself out on his own, determined to take revenge on the villain, played by Robert Davi, responsible for crippling his long-time friend and colleague Felix Leiter, played by David Hedison. Perhaps the most interesting location was at the Otomi Cultural Center at Temoaya, an amazing structure which could have been specially built for a Bond movie.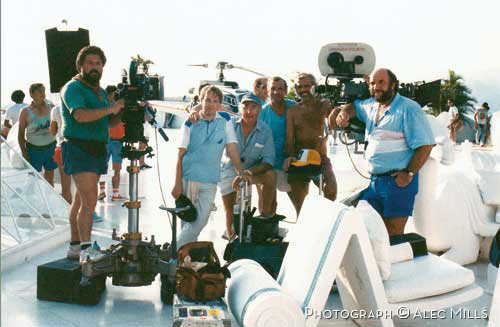 For its sheer mystery – if you believe in this sort of thing – special mention should made of the location near the town of La Rumorosa, where Arthur Wooster's second unit filmed parts of the climactic tanker chase sequence. Located near Mexicali on the American–Mexican border, a number of unexplained incidents took place. The road was already known to be dangerous due to the sharp bends and sheer drops. While you are always prepared for the occasional accident while filming stunts and action sequences, too many mishaps and strange occurrences – including spectral figures beside the vehicle compound at night – seemed to be happening to be called just coincidence. Added to that, no one could explain one image taken by the second-unit stills photographer George Whitear, of an explosion with what looked like skulls and faces in the flames, and the flaming fingers of what appeared to be an arm shooting down over a precipice. To add to this, a Mexican policemen later said that the explosion had been filmed on the exact spot where several nuns had been killed in a road accident a few years before.
All of the images for the film were achieved by separate units spread across the country, with Mexican camera crews working alongside the Brits on both the first and second units and the miracle of John Grover's slick editing once again ensuring that everything came together to complete the illusion. As ever, the film unit observed the life of both the rich and poor, and, while it was only a film to us, you were always aware of the government officer assigned to keep an eye on us. However, one thing is undeniable; through my twenty years of service with 007 I would experience the taste of a privileged life, mixing with the famous and visiting some of the most beautiful places one could possibly imagine. To balance this, I would also never forget some of the poverty-stricken locations visited with our filming, where the poorest struggled to survive and where strangers with cameras are looked on with great suspicion.
We finally completed filming in Mexico City in November 1988. At the time there was little to suggest that this would be my last outing with 007, but behind-the-scenes legal actions meant that it would be more than six years before another foot of film would turn on a Bond film. By then Cubby Broccoli had taken a backseat, placing Eon Productions in the capable hands of the next generation: Cubby's daughter Barbara and stepson Michael Wilson. When the franchise finally emerged from the legal mire there would be a new producer, a new Bond, a new director and a new cinematographer, which is how it should be…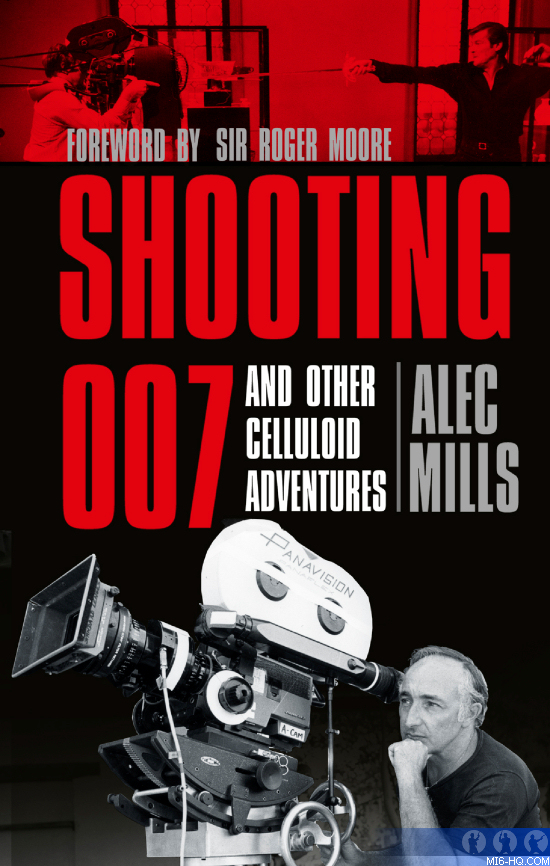 With change on the way, whether the older generation likes it or not, upheaval inevitably brings casualties to the elders of the filming community who sometimes find change difficult to cope with. It must be said that my twenty years of working for Cubby Broccoli and his delightful family was one of the happiest professional experiences of my filming career – genuine professional people whom I came to respect.
The only question now was, how long would it be before I also found myself struggling with the outgoing tide?
Licence To Kill
Share The Story