Book Preview - Cold War Spy Pocket Manual
16th November 2015
A new book reveals the outlandish-sounding espionage guidelines, instructions and transcripts from the period
By MI6 Staff
---
THE COLD WAR SPY POCKET-MANUAL
The official field-manuals for spy-craft, espionage and counter-intelligence 1945-1968
"We were both at the appointed place on time at 4:00 PM. He had the green book and the tennis ball and I had the four gloves..."
It may sound like a line from an Ian Fleming novel but this is a quote taken from official handover notes from the KGB to their agent handlers in the US and their first meeting with agent Klaus Fuchs. The date: 1945 - the start of what was surely the golden age for espionage, the Cold War years. Not surprisingly, neither Western nor Russian intelligence agencies have been keen to share their Cold War operations and have controlled the flow of information. However, embarking on his own intelligence mission, historian and ex-British diplomat, Philip Parker has successfully uncovered a wealth of fascinating and often outlandish-sounding guidelines, instructions and transcripts from the period.
With material from the CIA, MI5 and MI6, the KGB, the STASI, and beyond, The Cold War Spy Pocket Manual brings together directives that informed nuclear espionage, assassinations, interrogations, and the 'turning' of agents. It reveals their impact on the Suez Crisis, the "Cambridge Five" the Cuban Missile Crisis and more.
In its pages you will find a dossier of British techniques for interrogating spies (including "The Technique of Blow Hot-Blow Cold" and "The Legend of Cell Fourteen"), a guide to secret recognition written by a stage magician for the CIA (including flower in the lapel, wearing a Band Aid and tying shoelaces in a particular pattern), outlandishly detailed protocols for handling a dead drop, a document detailing some of the elaborate protocols put in place to detect potential traitors, and a CIA plot to lace Fidel Castro's cigars with hallucinogens, explosives or even a depilatory substance to make his beard fall out (and so undermine his revolutionary macho image).
There are training manuals written by spies themselves, details of how the KGB and GRU stations operated abroad, and a fascinating chapter dedicated to the Russian discovery of the Berlin Tunnel, dug by the Americans and British and used to record hours of telephone conversations on Soviet and East German military formations. The tunnel had been betrayed from the very start by MI6 defector, George Blake. The book concludes with the "thrilling story of the defection of one Soviet KGB officer (Kuzichkin) from the embassy in Tehran, eluding embassy security and Iranian intelligence agents to escape across the border into Turkey.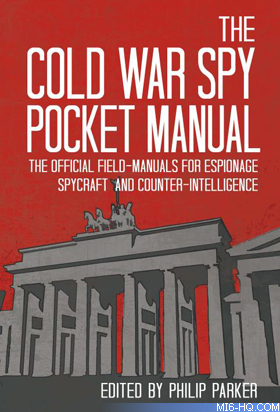 Coming complete with a catalogue of, and often instructions for, genuine espionage devices including lock decoders, cameras mounted in clothing or pens, the 4.5 mm single-shot lipstick gun and more plus sixteen codes and ciphers for the reader to crack, The Cold War Spy Pocket Manual is a hugely entertaining and informative book that is an absolute must for any wannabe James Bond!
MI6 Readers can order direct from the publisher for £7.99. Just enter CWMI623 at checkout.
Get Bond in Your Inbox
Sign up for occasional email updates from MI6. Get notified of breaking Bond news, and digests of recently releases features:
Share The Story