| | |
| --- | --- |
| | Guest writer Adam Bollard reviews Sir Roger Moore's "Bond on Bond", a literary reflection on 50 years of big-screen Bond adventures... |
Bond On Bond Review
15th December 2012
You've got to hand it to Roger Moore. Unlike Sean Connery (whom once out of it, "Never Say Never Again" aside, immediately distanced himself from the world of Bond) and George Lazenby (whom, following a stalled acting career, happily cashed-in on his 007 cachet by appearing at seemingly every autograph signing possible), following his 12-year stint as Bond, Moore used the fame he'd accrued in the series by highlighting the plight of some of the world's most vulnerable children as a UNICEF Goodwill Ambassador. Furthermore, the actor often acts as an unpaid, on-message ambassador for all things Eon. However, Lazenby-like, his latest venture shamelessly cashes-in on the cinematic hero's 50th anniversary in the shape of hardback book "Bond on Bond"...
Only the most brazen cynic, though, would claim this is a vanity project - and incorrectly so, at that. The first clue is the legend printed on the first page informing one that the book's purchase will see a contribution made to UNICEF. And, following this, the book dedicates itself to examining fairly comprehensively the full oeuvre of Eon's series, not just those aspects that saw its author's involvement, because it contains sections (admittedly predictably) on the girls, the villains, the gadgets, the vehicles, the locations, the Bonds themselves and 007's literary origins.


And all of it (again predictably, but most pleasingly) is shot through with Moore's combination of wry, sometimes sharp but more often self-deprecating, avuncular wit - which will come as no surprise to readers familiar with his marvellous 2008 autobiography "My Word Is My Bond". To read this effort then is like being guided through the Bond films by your favourite uncle, albeit one who used to play 'Jimmy Bond'. And that surely ain't a bad deal.




Datastream


Publisher: Michael O'Mara Books /Lyons Press
Format: Hardback
Pages: 224
RRP: £25.00 / $29.95
Order UK (Amazon) / Order US (Amazon)
Unsurprisingly, the book's on most solid ground when Sir Rog recounts his own experiences in Bondage and, in a nice surprise, recollections of his brushes with Eon's 007 before he eventually won the role. There's many an amusing and intriguing nugget to savour here - from how he royally wound up great friend Desmond Llewelyn (Q in the series) by re-writing the latter's gobbledegook-laden lines at the last minute to recollections of some of his female leads' humorously inane on-set comments, and from first meeting Eon head honchos Albert R 'Cubby' Broccoli and Harry Saltzman at the gaming tables of London's West End and thereafter being invited to exclusive preview screenings of each of their '60s Bond epics before they came out. Being on good terms with this producer pair for years before his debut in "Live And Let Die" clearly did his chances of finally landing the gig no harm.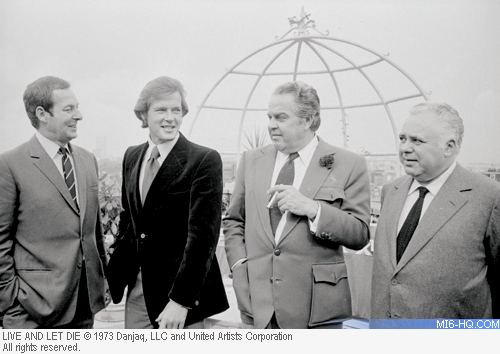 Above: Sir Roger Moore is announced by (left to right) director Guy Hamilton, Cubby Broccoli and Harry Saltzman as the new James Bond.
Overall, this may not be the most informative or revealing tome on Bond (nor, though while decently designed and full of glossy images, the most illustratively original), but it's a diverting distraction to dip in and out of - rather like one of its author's commentaries on his 007 movie DVDs. Yes, there's certainly been better coffee table-intended compendiums on the Bond films, but let's be honest, unlike "Bond on Bond" none of them can lay claim to have been written by the one, the only Sir Rog.
The opinions expressed in this review are those of the author and do not necessarily reflect those of MI6-HQ.com or its owners.