Belvedere For Bond
16th December 2014
Ben Williams reports from the Belvedere announcement, securing the partnership with EON Productions for the latest 007 adventure, SPECTRE.
---
Down a quiet side street in one of Central London's most exclusive suburbs, behind an unremarkable door, lies one of the city's most exclusive clubs. Membership here is restricted to a very select few individuals of a certain profession. Suffice to say that it is a club with a military connection in which James Bond himself would not be out of place.
It is in this rather secret location that Belvedere - the makers of premium Polish vodka - chose to announce their partnership with Eon Productions for the 24th James Bond adventure, "SPECTRE", and preview two new limited edition bottles, produced to mark this auspicious occasion.
MI6 BOTTLE: The limited edition MI6 Belvedere Vodka bottle pays tribute to the MI6 intelligence service by featuring an etching of the agency's iconic Headquarters in London on the label - replacing the familiar Belvedere Palace.
The MI6 building at Vauxhall Cross will be familiar to fans of the James Bond films, having been featured in "GoldenEye", "The World Is Not Enough" and most prominently in 2012's "Skyfall".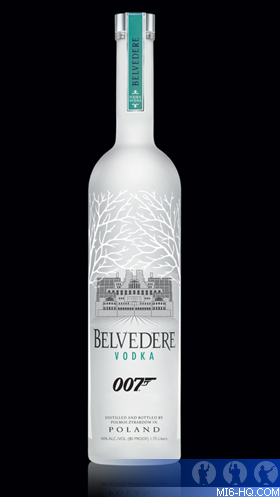 As well as featuring the MI6 building, the bottle also replaces the signature Belvedere blue ink with green. This is in reference to Captain Sir Mansfield Cumming, the very first head of MI6, who would initial papers he had read with a "C", written in green ink. Ian Fleming would borrow this device for his head of the Secret Service, Vice Admiral Sir Miles Messervy, giving him the codename "M" and having him sign in green ink, too. With just 100 numbered bottles available worldwide, this limited edition bottle is destined to become a true collector's item for Bond aficionados and Belvedere fans alike.
007 SILVER SABRE: The 007 Silver Sabre bottle is certainly eye-catching. Wrapped in an elegant, laser-cut metallic skin, the bottle is illuminated from within via an in-built LED system, which strikes the bottle's bespoke etching.
Whilst the limited edition 007 Silver Sabre bottle was previewed at the aforementioned club, it will be officially launched at a special event held at the Bond In Motion exhibition at the London Film Museum. Here it will be distributed to guests as a collector's memento of the partnership. The limited edition 007 Silver Sabre will be available for sale next year in selective retailers.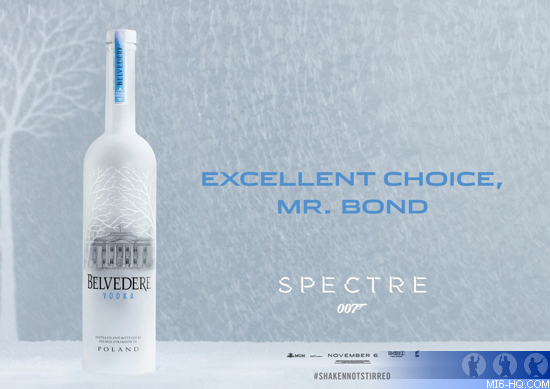 Whilst some purists may prefer to see Bond drinking Russian vodka, it is clear that the decision to partner with Polish brand Belvedere was not an arbitrary one. Belvedere's super-premium vodka is truly unique and their use of Dankowskie Rye - the most complex and expressive of all grains - offers a nuanced and expansive flavour palette, meaning that every sip resonates with quality, flavour and sophistication; the perfect choice for suave secret agents and cocktail connoisseurs alike.
You Might Also Like
Bond Style
Learn how to make James Bond's favorite cocktails - including his latest drink of choice, the 'Carte Blanche'
Quantum Of Solace (2008)
Add a touch of 007 class to your next party with Smirnoff's signature drinks recipes celebrating "Quantum of Solace"
---
Get Bond in Your Inbox
Sign up for occasional email updates from MI6. Get notified of breaking Bond news, and digests of recently releases features:
Share The Story