Lana Wood (Plenty O'Toole)
Datastream
Actress: Lana Wood
Character: Plenty O'Toole
Movie: Diamonds Are Forever
Date of Birth: 1st March 1946
Place of Birth: Santa Monica, California, USA
Trivia: Sister of the ill-fated starlet Natalie Wood

Pleased To Meet You
James Bond bumps into the delightfully candid Plenty O'Toole at a Las Vegas casino craps table. 007 places a comprehensive bet and Plenty plays along, squandering a few of his chips and charming her way into a romantic dinner for two.

Caught In The Act
After buying a seductive, candlelit dinner for the high-flying American gal, Bond and O'Toole return to his suite, but before the pair retire, the suspicious Shady Tree crashes their party and casually ejects the damsel from the third floor window.
"Hey, what the hell is this? A pervert's convention or something? Now listen, you can't do this to me! Stop that! I've got friends in this town!"
Profile
Bold and brash, Plenty O'Toole has a short yet memorable role on the "Diamonds Are Forever" mission. Adapt at charming rich and successful playboy types in order to have a flutter with the gamblers' excess cash, Plenty targets Bond with a cheeky greeting. The rapport between the pair develops over a champaign dinner until the high-flying Plenty takes a leap, landing in the hotel pool. She meets a sticky end when she is mistaken for the diamond smuggler, Tiffany Case. The damsel is tied to a concrete slab and left for dead in Case's Vegas swimming pool.

Memorable Quotes
Plenty: Hi, I'm Plenty.
Bond: But of course you are.
Plenty: Plenty O'Toole.
Bond: Named after your father, perhaps?

Bond: Well, if you'd like to come in, Plenty.
Plenty: Oh, how pretty, what a super place you have!
Bond: [playing craps] I'll take the full odds on the ten, two hundred on the hard way, the limit on all the numbers, two hundred and fifty on the eleven. Thank you very much.
Plenty: Say, you played this game before.
Extended Briefing
As well as the dinner between Bond and Plenty, a scene was cut from the film showing Plenty walking in on Bond and Tiffany, and ultimately being fatally mistaken for Case.
Biography
Born as Svetlana Zacharenko to Russian immigrant parents, her parents changed their name to Gurdin when they migrated to the US to Santa Monica, where Lana was born. As the youngest of three in the family, she followed in her sister's footsteps to become a child starlet and appeared in pictures as early as 1947 - when she was just one year old. She was 10 when Lana received her first onscreen credit appearing in a western flick, "The Searchers" which also starred her sister Natalie Wood and headlined the great action hero, John Wayne.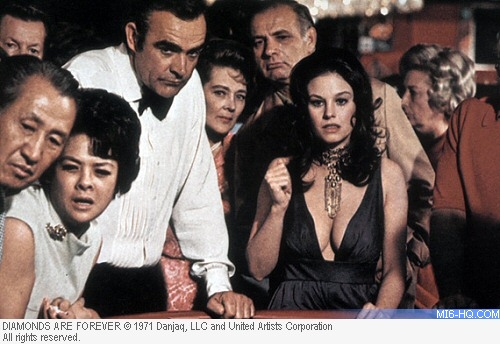 "You handle those cubes like a monkey handles coconuts..."
Their mother approved the sisters' stage name be changed to "Wood", after director Sam Wood. As a young star, she appeared in a string of TV bit parts including roles in the western series "Have Gun - Will Travel", '50s comedy "The Real McCoys" and David Janssen thriller "The Fugitive".
Between the age of 16 and 21, Lana Wood was married three times, each for a very short spell. First to Jack Wrather Jr in '62; their relations were annulled the same year. She was also married to Karl Brent in 1965 and actor Steve Oliver two years later.




In 1965, Wood landed a regular role on the one-season drama, "The Long, Hot Summer", in which she played Eula Harker. The show ran until the following year, when she played as Sandi Webber in a score of episodes of the sexy soap, "Peyton Place".

Lana posed for Hefner's "Playboy" magazine, after being approached by the editor himself. This prompted a cameo in Sean Connery's return to the 007 series and launched Wood from being a smiling child-star (often appearing alongside her more recognisable sister) into a pop-icon in her own right.

She reportedly had to stand on a box for her scenes with Sean Connery in the Bond adventure, as at 5' 3" she is a foot shorter than the 007 star.

Whilst filming "Diamonds Are Forever", Wood was apparently romantically involved with its Scots star. The relationship made for good publicity for the production but was short lived and she married Richard Smedley in 1973, at age 27. The couple had one daughter, named Evan Taylor Maldonado, the following year. The marriage ended in divorce some years later.

In the 1970s, she made a string of low-budget films in between appearances in some well-loved TV series, including "Mission Impossible", "Starsky and Hutch" and "Fantasy Island" - which starred three-foot Bond henchman, Hervé Villechaize.

In 1981, her sister drowned on a beach in California under suspicious circumstances. The death shocked her whole family and Lana took on the job of documenting the life and works of her famous sister. Three years after the passing of her sister, Lana published a tell-all memoir of their relationship and doing so reportedly deeply displeased the girls' parents.
She later produced a biopic based on the life of her sister: "The Mystery of Natalie Wood". More recently she has returned to acting and has three films ready for release in 2009, as well as a token few TV appearances in '08 and '09.