Production Notes - Diamonds Are Forever
As the 1970s dawned, EON Productions found themselves in something of a quandary. "On Her Majesty's Secret Service" (1969) had proved less successful than EON had hoped [though it was far from the financial disaster it's often damned as], George Lazenby failing to click with the viewing public as Connery had and EON were faced with a crisis - Lazenby was clearly out, but who was going to replace him?
Of more immediate importance though was the question of which novel was going to get the EON treatment next - without a script there was no point looking for a new Bond."Diamonds Are Forever" was settled on as the title, though by the time Richard Maibaum finished with it, there was precious little else left of Ian Fleming's original novel. Perhaps unnerved by a recent decline in the series' fortunes, Maibaum originally opted to revisit past glories. His first draft pitted Bond against Auric Goldfinger's twin brother, a Swedish shipping magnate whose bid for world domination was aided by a super tanker fitted with a massive laser. Fleming's diamond smuggling plot would be woven into the new narrative with Goldfinger trying to amass a stockpile of the gems to power his super-laser.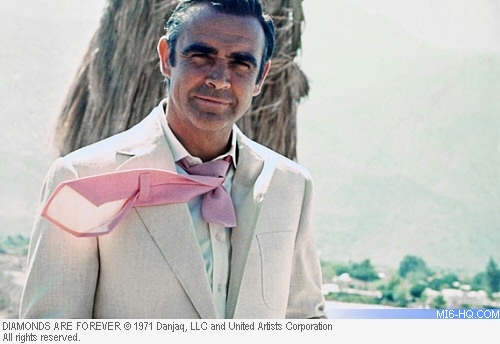 Above: Sean Connery in a publicity shot on location in Nevada, USA.
Although Gert Frobe had remained in contact with Saltzman and Broccoli [he'd appeared in Broccoli's adaptation of Fleming's Chitty Chitty Bang Bang (1968)]. he was unable to commit himself to another Bond film and Maibaum was forced to rethink. Still seeking to recall past glories, Maibaum wrote a second draft that featured SPECTRE's head man Blofeld, though he failed to appear in Fleming's novel. The super-tanker idea was put on hold [it resurfaced seven years later in "The Spy Who Loved Me"] and was replaced by a satellite that also used a diamond-powered laser.
Broccoli suggested one scene based on a dream he'd had. The producer dreamt that he'd been reunited with former employer Howard Hughes only to realise that the multi-millionaire had been replaced by an imposter. Broccoli mentioned the dream to Maibaum who used it as the basis for the scene where Bond visits Las Vegas billionaire Willard Whyte and discovers that he has been replaced by Blofeld. Saltzman too made his mark on the script, suggesting Thailand and India as likely locations, though subsequent logistical problems forced much of the extravagant Asian action to be dropped [again it would be used later, in "Octopussy" (1983)].

Maibaum appeared to be struggling somewhat and United Artists vice-president Danny Reisner suggested that a second screenwriter be brought in to help lick the script into some sort of shape. Fellow UA executive David Picker suggested Tom Mankiewicz, son of famed Hollywood scriptwriter Joseph Mankiewicz. Mankiewicz Jr joined the EON team in Autumn 1970 and immediately set to work on the script. It was Mankiewicz who added the scenes where Blofeld tries to evade capture by Bond by fooling him with lookalikes, and the pre-credits sequence where a vengeful Bond, still grieving the loss of Tracy, tracks down what he thinks is Blofeld and kills him.

Above: The leading ladies of "Diamonds Are Forever" - Jill St. John played Tiffany Case (top) and Lana Wood played Plenty O'Toole.
Mankiewicz's draft was complete by January 1971 and was greeted with some disdain by Maibaum, who was upset that his slam-bang finale had been replaced by "an interminable thing on an oil rig."
The script complete, Saltzman and Broccoli now had to find a director. Peter Hunt, director of the previous entry, "On Her Majesty's Secret Service", was not an option - relations between Hunt and his producers had broken down during the traumatic making of Lazenby's solo flight as Bond and Hunt had left the EON camp. Continuing the endeavours to evoke the glories of past successes, Saltzman and Broccoli called in Guy Hamilton, who had done such sterling work on "Goldfinger" (1964).
Work could now begin on filling out the supporting cast, though at this stage, it was still unclear who exactly was going to play Bond.

The majority of the cast would be American, unsurprising given that the film was largely to be set in the States. EON's Las Vegas based legal advisor, Sidney Korshak suggested Jill St John for the part of Plenty O'Toole and duly auditioned, apparently facing competition from Raquel Welch, Jane Fonda and Faye Dunaway. St John so impressed that he decided to cast her in the much larger and more important role of Tiffany Case.

Plenty was eventually played by Lana Wood, younger sister of the better known Natalie Wood. Country and western singer Jimmy Dean was brought in to play Willard Whyte while jazz musician Putter Smith joined Bruce Glover as gay assassins Kidd and Wint respectively. Blofeld was to be played by Charles Gray who, confusingly, had appeared in "You Only Live Twice" as Bond's contact, Henderson.

The usual suspects were all brought back for their bi-annual outing, Desmond Llewelyn, Lois Maxwell and Bernard Lee all rejoining the EON family, though not without some difficulties.

Above: Charles Gray returned to the series, this time to play Blofeld (top), with his two henchmen Wint & Kidd.
Maxwell's agent demanded money on the grounds that the few days she was required to appear in the Bond films was getting in the way of the rest of her career. Saltzman and Broccoli refused to give way and told Maxwell in no uncertain terms that she would be replaced if she didn't tow the line. Maxwell did appear, but spent most of her on-screen time in a policewoman's uniform to help disguise the fact that she'd dyed her hair black for a role in the Agatha Christie thriller "Endless Night" (1971).
But as the supporting cast came into place, the big question still remained unanswered - who was going to play James Bond?
Saltzman and Broccoli tried to woo George Lazenby back into the fold by sending him a copy of the script for the next film in the series, "Diamonds Are Forever", but the reluctant Aussie sent it straight back. He simply wasn't interested in donning Bond's tuxedo for a second time and was busy preparing for his latest film "Universal Soldier".
Roger Moore, who had been considered for "Dr No" (1962) but who had been under contract as TV's The Saint at the time, was again briefly in the frame and Saltzman and Broccoli arranged screen tests for a handful of less well known faces, among them future Bond Timothy Dalton. For a while it seemed as though the plum role had gone to naval intelligence officer turned actor John Gavin, who had appeared in "Psycho" (1960) and "Spartacus" (1960) among many other films. In 1967, Gavin had appeared in "OSS 117 Double Agent", one of the many Italian spy thrillers that had proliferated in the wake of EON's global success. Gavin was provisionally offered the part and was given a 'holding contract' to keep him on the hook.
But elsewhere, other plans were afoot. United Artists were understandably nervous about introducing yet another new Bond so soon after Lazenby and they determined that the only man for the job was Sean Connery. UA executive David Picker was unimpressed by Gavin and he was adamant that Connery must return to the series, no matter what the cost.

Associate producer Stanley Sopel called on Connery while the star was staying at London's Dorchester Hotel but came away only with Connery's second-hand Mercedes [which the star sold to him!] but no interest in his return to the series. Picker decided that the time had come to get personally involved and flew to London to try to tempt Connery with a new, unprecedented deal - $1,250,000 million in 18 weekly installments, 12.5% of the gross and a commitment from UA to finance two non-Bond films of his choice. It proved too much for Connery to resist and, against all the odds, he signed on the dotted line. Although he would eventually donate his fee to the Scottish International Educational Trust [a charitable organisation for "the advancement of education for the public benefit and the provision of facilities for recreational and other leisure time facilities", that Connery had formed in 1970 with industrialist Sir Iain Stewart and racing driver Jackie Stewart], the deal still made Connery the highest paid actor of his day. The real James Bond was back.

Above: Sean Connery filming the pre-titles sequence, washing his hands of Blofeld's plastic surgery goo (top), and the surreal chase through the lunar training facility.
With John Gavin compensated to the tune of $50,000 [he carried on acting until he became US ambassador to Mexico during the Reagan administration], Connery was back in the EON fold and shooting could at last begin. United Artists had come up with $7,200,000 by the time the cameras started to roll on Monday 5 April 1971 when the crew flew out Las Vegas to shoot preliminary footage. Connery arrived on the 11th, full of plans to shoot a version of "Macbeth" as part of the deal he had cut with United Artists.
In the first week of May, the second unit crew moved to the Nevada desert to shoot the famous moon buggy sequence while Hamilton and the main crew set up home at Oceanside, Palm Springs which would double for Willard Whyte's palatial home. They also commuted to Los Angeles where the International Hotel stood in for The Whyte House casino and where the spectacular oil rig set was being erected off the coast.
For the first time in the series, "Diamonds Are Forever" also made use of other studio facilities, the crew availing itself of Universal Studios' north Hollywood backlot where they staged the car chase through Las Vegas. As ever, the production racked up a lot of air miles as it touched down in London, Dover and Southampton in the UK; Amsterdam in the Netherlands; and the South of France.
But once again, EON's base of operations was Pinewood Studios where the production arrived on Monday 7 June. Ken Adam, back in harness again after missing out on "On Her Majesty's Secret Service", had worked his usual magic, taking over four of the studio's stages to recreate the film's main interiors. Principal photography closed on Friday 13th August, smack on time, unlike "On Her Majesty's Secret Service" which had overshot by some two months.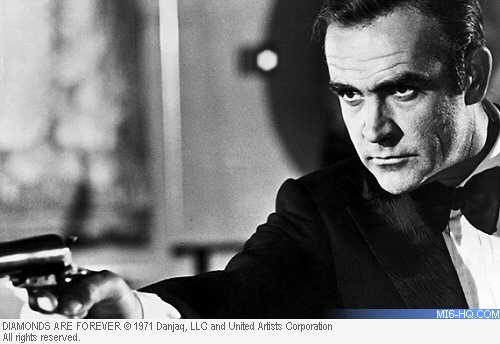 Above: Bond breaks in to Blofeld's lair at the Whyte House in Las Vegas.
"Diamonds Are Forever" opened in the States ahead of its British premiere, on 17 December 1971. It was an immediate hit, the return of Connery to the fold rejuvenating a series that was hardly ailing but which had certainly not been doing as well of late as EON might have hoped. Indeed in the States, "Diamonds Are Forever" set a new Bond film record that would not be matched until another rejuvenation, in the shape of "Goldeneye", in 1995.
The film opened at the Leicester Square Odeon in London on 30th December and was again greeted with enthusiasm by Bond fans, shattering existing records. Ultimately, the film's world-wide gross would be marginally greater than "You Only Live Twice", making it the most popular film in the series thus far.
But there were problems afoot in the EON camp. Saltzman and Broccoli, who had been brought together only by their desire to see Bond on the big screen, had not been seeing eye to eye on many things for some time. The situation was starting to come to a head at around this time and the producers started to work on the films separately from this point. Much of the work on "Diamonds Are Forever" was undertaken by Broccoli and it would be down to Saltzman to guide the next in the series, "Live And Let Die" (1973).