Production Notes - GoldenEye
In the fallout from the disappointing box office returns for "Licence to Kill" [1989] there was much boardroom politicing and financial manoeuvring that virtually ensured that James Bond would be absent from our screen for six years.
Albert R. Broccoli, disheartened at the way that the Bond franchise was going, had put Danjaq, the Swiss based parent company of the Bond production office, EON, up for sale at the turn of the 90s. EON itself was passed on to Michael G. Wilson, Broccoli's stepson who had been guiding the series as executive producer since "Moonraker" [1979], and Broccoli's daughter Barbara who had been playing an increasingly important role in the last couple of films.
On August 12 1990, The Sunday Times reported that Broccoli had parted company with Richard Maibaum and John Glen, long serving writer and director respectively - Maibaum, who had been at least partly responsible for 13 out of the 16 'official' Bond films so far, died a year later. Broccoli now set to work seeking out fresh blood to try to revitalise what was clearly an ailing franchise. Among those he considered were John Landis, American TV writer Alfonse M. Ruggiero Jr [though his track record on Miami Vice and Airwolf hardly boded well], Rambo director Ted Kotcheff, writer / director John Byrum and, most worrying of all, husband-and-wife writing team Gloria and Willard Huyck, the people responsible for Howard the Duck [1986].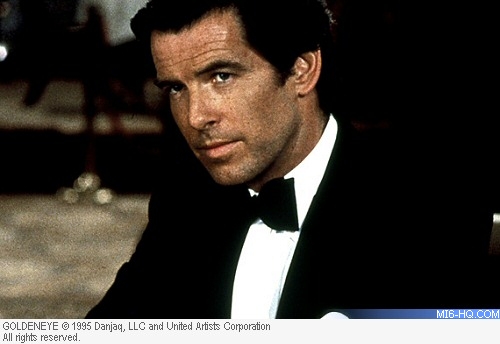 Above: Pierce Brosnan as James Bond in "GoldenEye".
MGM/UA were getting a little desperate at this point. Bond had been one of the mainstays of their success and the early 90s were difficult times - they had only Rocky V ready for release and that was far from assured of success. They needed Bond, though even they were forced to admit that "the series is looking a little tired."
Then things started to get even muddier. In 1989, the MGM/UA chairman had sold the company to the Australian based broadcasting group Quintex and they in turn were negotiating to merge the company with Pathe Communications. Just days before the proposed merger date on 23 October 1990, Danjaq, still in the control of Broccoli and his wife Dana, issued a writ against MGM/UA and its new chairman, Italian businessman Giancarlo Peretti, trying to stop the company from licensing the Bond back catalogue to Pathe Communications for TV distribution deals that were allegedly unfavourable to Danjaq.
Danjaq was arguing that Pathe had entered into agreements with Japanese, Spanish, French, Italian and South Korean broadcasters to show the Bond films on TV but had failed to consult with Danjaq first. Danjaq's attorney told Variety that the deals were "improvident in a number of respects. Their most obnoxious aspect is the length of the terms at ridiculously low rates." Danjaq alleged that Pathe was going to sell the TV distribution rights in order to generate the funds it needed for the proposed buy-out of MGM/UA and Danjaq were rightly worried that they would be unable to generate income from their films through TV sales for the rest of the century.
In 1992, with the matter still unresolved and with Broccoli's health failing, a new problem presented itself - Frank Mancuso had been installed as the chairman of the newly formed MGM/UA Pathe and he in turn appointed John Calley as the president of United Artists. Calley had been at Warner Brothers during the production of Kevin McClory's rogue Bond picture "Never Say Never Again" [1983] and on his appointment was keen to see the 'official' Bond franchise up and running again. But he wanted a new Bond and presented Broccoli with a list of names, among them Hugh Grant [then still largely unknown], Ralph Fiennes, Liam Neeson and Pierce Brosnan, all of whom he felt would be worthy of consideration. But Broccoli was adamant that Timothy Dalton should fulfil his three picture contract and remain on as Bond.

In 1993, Broccoli had a victory at last. Giancarlo Peretti was removed as head of MGM/UA and the incoming regime seemed more willing to deal with Danjaq on Broccoli's terms. On 6 August 1993, Timothy Dalton was interviewed by The Daily Mail and gave the first indication of what was to come. He claimed that Michael France, who had penned the Sylvester Stallone thriller Cliffhanger was on board and working on a screenplay for the forthcoming Bond film. Dalton hinted that production was set to begin in January or February of 1994.


Above: The leading ladies of "GoldenEye" - Izabella Scorupco (top) as Natalya Simonova and Famke Janssen as Xenia Onatopp.
Satisfied that the franchise and its history was once again safely in Danjaq's hands, Broccoli took a back seat and allowed Michael G. Wilson and Barbara Broccoli to get on with the day to day running of EON Productions. Broccoli's health was deteriorating, the producer plagued by a serious heart condition that was putting great strains on him.
The January or February 1994 production start that Dalton had suggested came and went and there was still not even an official announcement from EON as to where the series was heading. As time wore on, it became inevitable that patience would be worn thin and on 12 April 1994, a bombshell was dropped - Timothy Dalton was refusing to come back to the fold. He'd signed up for three film, but it was now five years since his last outing as Bond and he felt the time had come to move on.
EON opted not to stand in his way and set about searching for his replacement. Although ten actors were screen tested there was really little doubt who was going to get the role. During the filming of "For Your Eyes Only" [1981], Broccoli had lunched with one of the film's co-stars, Cassandra Harris who had introduced the producer to her fiance, a handsome young Irish actor by the name of Pierce Brosnan. Broccoli had been impressed by Brosnan and, when Roger Moore hung up his tuxedo after "A View To a Kill" [1985], had sought him out with a view to casting him as Bond.

But Brosnan had been enjoying some success on American TV in the comedy-drama Remington Steele. At first it looked as though the show was being cancelled by its network, NBC and that Brosnan would be free to accept Broccoli's offer to join the EON team.

But as the world's press leaked more information about the new Bond, NBC changed its mind and asked producers Mary Tyler Moore Television for another series of Remington Steele and Brosnan, still under contract, had no choice but to turn down the chance to play 007.
But this time, things were different. Remington Steele had finished its run at the end of 1986 and Brosnan appeared in a string of largely undistinguished features and TV films for a few years. His career went on hold for a while as he nursed Harris through the final stages of the cancer that was to claim her life in 1991. Brosnan was devastated and it took him some time to turn his mind back to his work. More undistinguished films followed, including "Mister Johnson" [1991] and "The Lawnmower Man" [1992], his only major credit during these difficult years being a small part in the hit Robin Williams comedy "Mrs Doubtfire" [1993]. By 1994, the time was right for the talented Irishman's elevation to a loftier stature and Wilson and Broccoli were quick to snap him up.
Brosnan has frequently recalled how, as a boy just over from Ireland, he had been to the cinema to see his first film - "Goldfinger" [1964]. While shooting "GoldenEye", Brosnan was to keep a copy of Fleming's Goldfinger novel at hand, "just for the significance of it."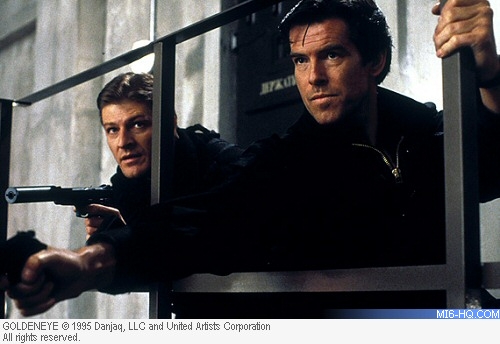 Timothy Dalton's assertion that Michael France was writing the new film proved correct. Working closely with the Broccoli's and Wilson, France had created a first draft screenplay named after Ian Fleming's house in Jamaica, "GoldenEye". The first draft had been written with Dalton in mind and, when Brosnan came on board, it was rewritten by British writer Jeffrey Caine who retained a lot of France's original ideas [involving Bond's relationship with the traitorous 006, Alex Trevelyan] but added new angles to the piece - it was Caine who added the nine-years-previously prologue that opens the finished film. A third writer, Kevin Wade, was brought in to polish the script, followed by final tinkering by Bruce Feirstein, a friend of Barbara Broccoli and her husband Fred Zollo. This complex arrangement was acknowledged on-screen with Caine and Feirstein sharing a screenplay credit while France was credited with creating the story. There was no on-screen credit for Wade.
With leading man and script in place, it fell to EON to now find a suitable director. Albert R. Broccoli's relationship with John Glen, who had directed the last five films, had ended in 1990 and the attitude at EON now seemed to be that a complete break with the past was called for. Various directors were considered [Roger Spottiswoode, later to direct "Tomorrow Never Dies" [1997], claims to have been asked to direct a new Bond film as early as 1991, even though no script was ready at that stage] before Wilson and Broccoli opted for New Zealander Martin Campbell.
Campbell had started his career in the mid-70s directing British sex comedies like "The Sex Thief" [1973] and the riotous and really rather good "Eskimo Nell" [1974], a sharp and very funny insight into the slapdash world of British 70s exploitation cinema. Later, Campbell moved to TV where he worked on shows like Minder, Shoestring and The Professionals. 1986 saw him reach his first peak of creative excellence with the BBC drama Edge of Darkness and Campbell soon had Hollywood beckoning.

The supporting cast was to be headed by Sean Bean as the turncoat agent 006, Alex Trevelyan. Best known as TV's Lieutenant Sharpe in ITV's successful adaptations of Bernard Cornwell's novels, Bean was offered the part after he'd auditioned for Bond and lost out to Brosnan.

Polish actress Izabella Scorupco was the leading Bond girl, a successful performer, model and singer on the continent but less well known elsewhere. "GoldenEye" was her first film in English. The other main Bond girl, the awesome Xenia Onatopp, was to be played by Famke Janssen. The Dutch model-turned-actress was spotted by Wilson in footage from the then still in production Clive Barker film "Lord of Illusions" [1995] and her performance in an otherwise drab and forgettable film so impressed the producers that she was offered the part immediately.


Above: Before "GoldenEye", Izabella Scorupco was an unknown in Hollywood. She went on to star in "Vertical Limit" with director Martin Campbell.
Joe Don Baker - on the side of the enemy in "The Living Daylights" [1987] - returned to the series as one of Bond's allies, CIA agent Jack Wade, clearly intended as a replacement for Felix Leiter. Baker had worked with Campbell before, turning in a stunning performance as Darius Jedburgh in "Edge of Darkness". Another ally for Bond, albeit a reluctant one, was Russian gangster Valentin Zukovsky, played with gusto by Robbie Coltrane, still riding high after his success as hard-bitten criminal psychologist Fitz in TV's Cracker.
Ever willing to keep pace with changing real world mores and attitudes, "GoldenEye" would see the introduction of a new M - and with MI5 now being run by a woman, Stella Rimmington, the inspired decision was made to cast Judi Dench as Bond's new boss. She was to be assisted by the official series' third Moneypenny, the aptly named Samantha Bond taking over from Caroline Bliss. Keeping continuity alive and well was Desmond Llewelyn returning for his 15th outing as the ever- exasperated Q.
On 1 June 1994, Pierce Brosnan received the news he'd been waiting for for almost eight years - he was officially the next James Bond. He immediately signed the customary three-picture deal and was introduced to the press [in the full beard he was sporting for a forthcoming TV adaptation of Robinson Crusoe] on Wednesday 8th June.
The finished screenplay was heartily endorsed by Campbell, who enthused about its capturing of the spirit of the earlier films, though his personal dislike of smoking meant that Bond was to give the habit up again - 007 had started smoking again when Dalton arrived on the scene, but EON were clearly uneasy about the image this presented as they placed a "smoking can kill" warning during the end credits of "License To Kill" [1989].

With production set to begin, EON hit a snag. They wanted to return to their traditional home at Pinewood but the studios had been busier of late than ever before. By the time "GoldenEye" was ready to roll, Gerry Anderson's Space Precinct TV show had moved in and commandeered most of the available space. And the studios were largely booked up for the foreseeable future.

EON started scouting round for a new base of operations. Wilson and Broccoli were keen to stay in the UK and they were able to achieve this when they happened upon a huge, abandoned Rolls Royce factory at Leavesdon Aerodrome near Watford in Hertfordshire. The factory had closed down in 1993 and the vast buildings, sitting in 150 acres of land, were ideal for EON's needs. Work began on creating the first new British film studios in decades and by June 1994, six sound stages were ready for use.


Above: Martin Campbell directs Famke Janssen and Pierce Brosnan for the casino scene. Campbell would return to the series to usher in the next Bond, Daniel Craig in "Casino Royale".
Production itself began on 16 January 1995 at the newly dubbed EON Studios at Leavesdon, though the first time the press was to see the new cast was on Sunday 22 January. A short while later, the production set out for Monaco to shoot the casino scenes where Bond first meets Xenia, and the car chase scene that saw the long overdue return of the Aston Martin DB5. Down in the harbour, the yacht Northern Cross stood in for the Manticore in the scene where Bond realises what Xenia is up to and races against time to prevent her from stealing the Tiger helicopter.
The finale, set on Trevelyan's radio-telescope, was filmed at the famous Arecibo radio telescope in Puerto Rico. Part of SETI [Search for Extra-Terrestrial Intelligence], Arecibo is the largest fixed radio telescope in the world and provided a stunning backdrop for the stunt team's antics. Stunt newcomers Jamie Edgall and Sean McCabe stood in for Brosnan and Bean during the climactic hand-to-hand fighting.
The teaser was filmed at the Verzasca Dam in Locarno, Switzerland. Stuntman Wayne Michaels performed the spectacular bungee jump and also did a second, shorter jump for use in close ups. The interiors of the nerve gas facility were sets specially built at Leavesden by returning production designer Peter Lamont. Outside, the old airfield proved to be the perfect location for Bond's daring escape by motorcycle and aircraft.
The second unit, under the direction of Ian Sharp, headed off for St Petersburg to spend two weeks shooting reference footage that was to be carefully matched to a specially built backlot at Leavesden.
When Bond meets Wade at St Petersburg airport, Epsom race course was pressed into action to double for the real thing, and the production also revisited the Nene Valley steam railway [previously used in the making of "Octopussy" [1983] to shoot the scene aboard Trevelyan's train.

On 1 June 1995, one year exactly after he heard that he'd finally got his coveted role, Brosnan had a surprise visitor on the set at Leavesden. Roger Moore turned up and announced that he'd been sent to take over! In fact he was on the set to visit his son Christian who was keeping it in the family and working as a third assistant director. Five days later, after filming the St Petersburg tank chase, principal photography came to an end on Tuesday 6th June.

The special effects on "GoldenEye" were to be a mix of traditional model work [created by a unit headed by Derek Meddings] and, making their first appearance in a Bond film, the new generation of digital effects. "GoldenEye" was to be Meddings' swan song. Shortly after completing his work on the eighteenth Bond film, the effects wizard was to die of cancer.
While the effects crew were at work, the soundtrack was being compiled. Unlike earlier films, where a single musical director, usually John Barry, had guided the score to its completion. But on "GoldenEye", at least seven musical talents contributed to the finished soundtrack, not necessarily with the desired results. John Altman and David Arch contributed a symphonic score that was augmented by a synthesiser score by Frenchman Eric Serra. The title song was written by Bono and The Edge, singer and guitarist respectively with Irish supergroup U2 and had called on top producer Nellee Hooper to oversee production duties. To actually sing the song, they recruited Tina Turner who took the single to number ten in the British charts. Maurice Binder, the man behind almost all of the Bond's distinctive title sequences, had died in 1991 and "GoldenEye"s stunning kaleidoscope of symbolism and surrealism was created by former pop promo director Daniel Kleinman.
"GoldenEye" opened in the States on 17 November 1995 and was an immediate smash hit. Admissions topped 29 million, the best since the heyday of "You Only Live Twice" [1967]. It had its British premiere at the Odeon Leicester Square in the company of the Prince of Wales who was reported to have cheered his approval during the action sequences. The film opened to the public in London on 22 November and went on nationwide release two days later.
"GoldenEye" was a massive success around the world. By May 1996, just six months after it opened, "GoldenEye" had grossed a staggering £106,429,941 at the US box office and £350,731,227 worldwide, figures that hadn't been seen since the series was at its height in the 1960s.
Sadly, some of the shine was taken off Bond's glorious return when, on 27 June 1996, Albert R. Broccoli died at the age of 87. He had been ill for a long time, too ill in fact to visit the set of "GoldenEye", but he kept his finger on the pulse right up to the end, monitoring the progress of the new film as best he could.
A memorial service was held, where else but at the Odeon Leicester Square, scene of so many of Broccoli's greatest triumphs, on 17 November 1996, the same day that "GoldenEye" opened in the States a year previous. Roger Moore, Timothy Dalton and Pierce Brosnan joined friends and family to pay tribute to a man who had, in his own way, changed the face of British film history.