Production Notes - Live And Let Die

Diamonds Are Forever had been another huge hit for Eon's Bond franchise, but producers Harry Saltzman and Albert R. Broccoli had been aware all along that Sean Connery's return to the fold had been a temporary one, the star agreeing to just the one film before again moving on to pastures new. So before they could begin production on their next film, Live And Let Die, the hunt would have to begin again for a new Bond.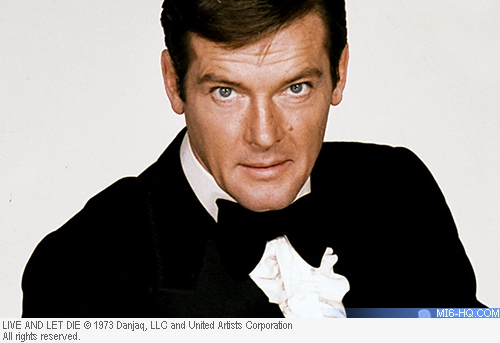 Above: Roger Moore as James Bond 007
But even before Saltzman and Broccoli began grappling with the major headache of who should replace Connery, pre-production was well underway. Tom Mankiewicz returned to write his second script for the Bond series and, as was becoming increasingly the case, took very little from Fleming's novel save the title, a handful of characters and the very basic plot. While he gutted the novel of its most cinematic elements, returning director Guy Hamilton and production designer Syd Cain headed for Jamaica in March to scout out likely locations.
Back in the UK, Saltzman and Broccoli dabbled with the idea of not using an actor at all for their new Bond, but looking for someone from the armed services who might be able to take on the part.

They took out advertisements in army magazines asking "Are you 007?" and waited to see what would happen. Unfortunately, the reply they got was from Equity, the actor's union, who objected most strongly and demanded that EON drop their plans.

So Saltzman and Broccoli began searching for a suitable actor to take over from Connery. By June 1972, their short list had been reduced to a handful of likely candidates, among them future TV Sherlock Holmes Jeremy Brett, and future Bond villain Julian Glover (who would later play Kristatos in For Your Eyes Only (1981)).

Leader of the pack at this point appeared to be Michael Billington, well known to British TV viewers as one of the stars of Gerry Anderson's UFO (1969) and The Onedin Line. Broccoli was a close friend of Billington's and was asked to screen test no less than seven times. He was eventually passed over for the part, though he did appear in a Bond film later - he played the small role of Sergei in The Spy Who Loved Me (1977).


Above: The leading ladies of "Live And Let Die" - Jane Seymour (top) and Gloria Hendry.
Twice before, Roger Moore's name had been in the frame for Bond and twice he'd been rejected by Saltzman and Broccoli due to his commitments elsewhere. In 1972, he was contracted to Lew Grade's The Persuaders! and it again looked like he was going to lose the chance to play 007. But The Persuaders! proved to be unpopular with the public, particularly in the States where it failed to compete with Mission: Impossible against which it was scheduled and Moore (who Broccoli had first met some time before in a casino in London's Curzon Street) suddenly found himself released from his five-year contract. The timing was impeccable - in August 1972, Moore was offered a three film deal with United Artists.
Moore was the first Englishman to have played the most quintessentially English of characters in the official series - Connery was Scottish; George Lazenby, an Australian; Timothy Dalton, a Welshman; and Pierce Brosnan is Irish. Daniel Craig become the second Englishman when he was cast as 007 #6 in 2005.

Jane Seymour took the role of tarot priestess Solitaire only after the decision was made not to cast her as a black woman as she was written in the script. Similarly, black actress Gloria Hendry took the role of CIA agent Rosie Carver after she was changed from "a beautiful, dazed white girl." Seymour won the role over Catherine Deneuve, the producers' original choice, after Broccoli had seen her on TV's The Onedin Line.

Shooting began at the beginning of October and took place largely in the States and not in Jamaica as had originally been planned.

The Dixieland funeral was shot first, on Charter and Durmaine Streets in the French Quarter of New Orleans. On Friday 13th October, Roger Moore tackled the demanding power boat chase through a bayou some 30 miles outside New Orleans.


Above: Kananga (AKA Mr Big) and the mysterious Baron Samedi.
By early November, the production ran into its first problem. Moore had earlier sustained a minor leg injury which he had now recovered from, only to fall foul of a long-standing kidney stone problem, forcing Hamilton to re-schedule the shoot around his star's temporary absence.
Seymour joined the Bond team hot off the set of The Onedin Line and was exhausted. Indeed she was so tired that she arrived with a note from her father-in-law, Richard Attenborough, asking Hamilton to go easy on her. She was joined by David Hedison, an old friend of Moore's, as the fourth incarnation of Felix Leiter, a role he was to reprise 16 years later in Licence to Kill (1989).
On 29 November, the crew packed their bags and headed for Jamaica aboard charter flights arranged at just 24 hours notice by the redoubtable Charles Russhon. The crew settled in to the Sans Souci Hotel in Ocho Rios and were soon working at the 300-acre crocodile farm owned by stuntman Ross Kananga, who had already contributed his surname to the production (Mankiewicz liked it so much he used it to christen his villain) and was now about to contribute both his farm and his skills. Other Jamaican locations included Runaway Caves and the Green Grotto lake.
On 7 December, Roger Moore was able to put into practice his three months of bus driver training he'd undertaken under the supervision of London Transport instructor Maurice Pratchett. Between them, Moore and Pratchett staged the spectacular stunt in which Bond shears off the top of a double decker by driving it under a low bridge.
Shortly before Christmas, the Jamaican shooting wound up and the cast and crew took a well earned holiday. While they were away, Maurice Binder assembled the first of the film's teaser trailers to whet the appetite of the public both in Britain and in the States. As the New Year approached, cast and crew re-assembled at Pinewood where the production had taken over eight of the stages.

This time round, there were some question marks over which of the regular supporting cast were going to return. The script made no mention of Q so for the first time since his debut in From Russia With Love (1963), so Desmond Llewelyn would not be appearing.

Lois Maxwell was on hand as the ever-adoring Moneypenny, but the recent tragic death in a fire of Bernard Lee's wife, Gladys Merredew, left some doubt as to whether the long-running M actor would be available. Kenneth More, a good friend of Roger Moore, offered to appear as M but only if his fee was passed on to the grieving Lee. In the end, Lee turned up for his short appearance, M venturing out of his office to visit 007 at his apartment.

With studio filming over, the crew set of for New York where the Harlem scenes were filmed.


Above: Director Guy Hamilton sets up a shot in New Orleans (top), Geoffrey Holder as Tee Hee.
With shooting finished and editing under way, it was time for the soundtrack to be recorded and for the first time in the series, John Barry was not to wave the baton. Instead, the score was written by former Beatles producer George Martin, with the title song performed by Paul McCartney, who had been originally penciled in for the theme to Diamonds Are Forever (1971) before being replaced by Shirley Bassey. The film marked a reunion for McCartney Martin, this being the first time the pair had worked together since the Abbey Road album in 1969.
Live And Let Die had its British premiere at the series' other spiritual home (after Pinewood Studios, of course), the Odeon in London's Leicester Square on 4 July 1973. The film did reasonably well at the box office, but it marked a noticeable drop in takings again from the renewed financial success of Diamonds Are Forever (1971) - with US admissions of just 20.1 million, the film came in rather behind the 1960s extravaganzas.