In Memoriam
2nd January 2015
MI6 remembers all those the Bond canon has sadly lost in 2014, and their unique contributions to the world of 007, on screen and off
By MI6 Staff
---
Sam Peffer (1921-2014) Sam Peffer died on March 14th 2014 at the age of 92. The artist who created the look of James Bond for many Pan paperback editions of Ian Fleming's adventures is survived by his wife Kitty (Kit) who had modelled for many of his covers.
The 'Peff' era at Pan began in 1956, with Peffer being paid up to £45 for each Ian Fleming paperback cover, but no royalties or second-right sales. At the time of publication, few viewed the covers as art in its own right, with the priority set on creating a 'saleable' design. Much to the chagrin of art editors, he signed all his covers 'Peff', a nickname his picked up during his Navy years. Pan held the rights to publish the James Bond novels by Ian Fleming in paperback between the 1950s and the 1980s. [Full Story]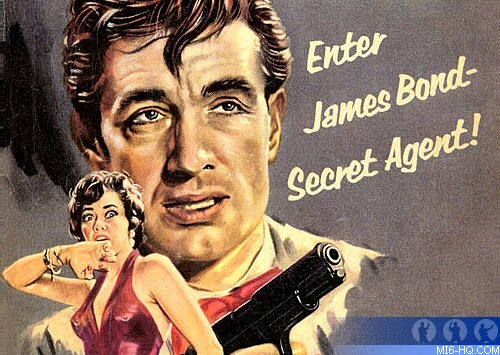 Oswald Morris (1915-2014) Oswald Morris, who served as Director of Photography on the 1974 James Bond adventure 'The Man With The Golden Gun', passed away aged 98 at his home in Dorest on 17th March 2014. Morris was born in Middlesex, UK in 1915. He served as cinematographer on over 50 productions, and won an Academy Award for 'Fiddler on the Roof' (1971). He was nominated twice more, for 'Oliver!' (1968) and 'The Wiz' (1978). Throughout his 30+ year career, the DoP worked with directors Sidney Lumet, Stanley Kubrick, Carol Reed, Tony Richardson, and more. In 2006, the cinematographer wrote his autobiography 'Houston, We Have a Problem.'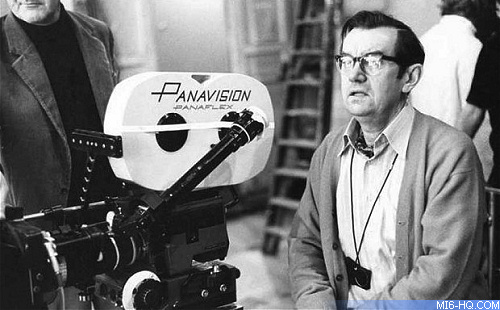 Terry Richards (1932-2014) British stuntman Terry Richards died at the age of 81 on Saturday 14th June. Largely uncredited in the Bond series, he performed in 'From Russia With Love', 'Goldfinger', the 1967 spoof "Casino Royale', 'You Only Live Twice', 'On Her Majesty's Secret Service", 'Tomorrow Never Dies' and 'The World Is Not Enough'. On screen, he is most famous for his role as the Cairo Swordsman in 'Raiders of the Lost Ark', who is shot dead by Indy.
Dave Bickers (1938-2014) Motocross legend and James Bond stuntman Dave Bickers died from a stroke aged 76, on 6th July 2014. Before he became a stuntman, he won two consecutive European championships in the 1960. In 1976, he started his own TV film and stunt company and had his first brush with 007 working behind the scenes on 'For Your Eyes Only' in 1981 before getting on screen doubling as Roger Moore in the 1983 film 'Octopussy'. After also working on the rogue production 'Never Say Never Again', Bickers took a break from Bond until 'GoldenEye' in 1995 and worked on every film since until 'Skyfall' in 2012.
Iris Rose (1930-2014) Iris Rose, one of the long-serving members of the Bond family who worked with four 007 actors, passed away on Tuesday 12th August 2014. Based at Pinewood Studios, Iris served on the 007 franchise since 1981. Her first James Bond credit was as a production assistant on 'For Your Eyes Only,' and carried that work through 'Octopussy.' Iris became a Unit Manager for Roger Moore's last outing as Bond in 1985's 'A View To A Kill' and continued in the role through all of adventures of the Timothy Dalton and Pierce Brosnan eras. She also served as Unit Manager for Daniel Craig's debut as 007 in the 2006 outing 'Casino Royale'. The follow-up, 'Quantum of Solace,' was her last Bond movie.
Tom Pevsner (1926-2014) Tom Pevsner served as Executive Producer for the first and only time on the 1995 relaunch of the James Bond series with Pierce Brosnan on top billing in 'GoldenEye.' He had previously been Associate Producer on 'For Your Eyes Only', 'Octopussy", "A View To A Kill', 'The Living Daylights' and 'Licence To Kill', for a period spanning fifteen years and three different 007 actors. Describing his role on 'GoldenEye', Pevsner explained: "I'm the nuts and bolts man. I make sure that everything gets put together."
Born on October 2nd, 1926 in Dresden, Germany, Tom was the son of the distinguished architectural historian, Sir Nikolaus Pevsner. He served in the British Army from 1944 to 1948 before earning a degree in Modern Languages at Cambridge University. In 1951, Pevsner entered the film industry under Sir Michael Balcon at the famed Ealing Studios. 'GoldenEye' was Pevsner's last big screen credit. He died on Monday 18th August 2014 at the age of 87. [Full Story]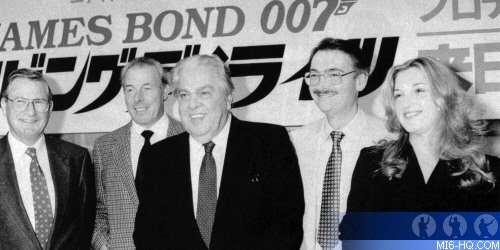 Gottfried John (1942-2014) Born in Berlin, Germany, on August 29th 1942, German actor Gottfried John grew up in Post War Germany and was one of a generation of stage actors who took German theatre in a new direction. Long before becoming best known to James Bond fans as General Arkady Grigorovich Ourumov in the 1995 adventure 'GoldenEye', his first screen credit was in 1962 for the comedy musical 'Café Oriental'. He enjoyed a steady career of eclectic German language film and television productions up to and after his brush with 007. Following his appearance in "GoldenEye", John appeared in several international movies including 'The Ogre' (1996), 'Asterix and Obelix vs. Caesar' (1999) and 'Proof of Life' (2000). He also recorded the German voice of Shifu in 'Kung Fu Panda 2' (2011). In his later years, John focused on television work, but his last credit was for the time-traveling film 'Rubinrot' in 2013.
On the news of his passing, James Bond star Pierce Brosnan wrote: "My dear friend, we played in the world of James Bond and traveled the world together to celebrate the success of Goldeneye. I am so proud to have worked along side you. My prayers and sympathies go out to your family at this sad time in life. Peace be with you." Gottfried John died of cancer near Munich, Germany, on 1st September 2014 at the age of 72. He is survived by his wife Barbara. [Full Story]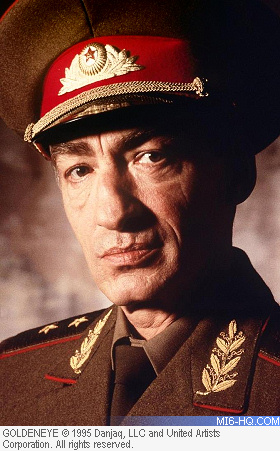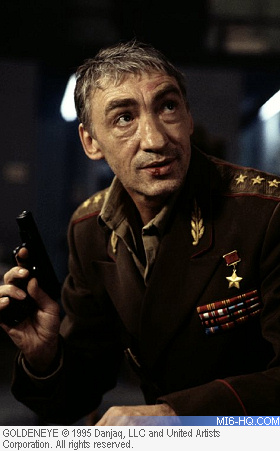 Richard Kiel (1939-2014) Born in Detroit, Michigan, on September 13th 1939, Richard Kiel became a full time actor in 1960 after numerous odd jobs including a nightclub bouncer, a cemetery plot salesman and a night school math instructor. His distinctive height and features are a result of a hormonal condition known as acromegaly. At his tallest, Kiel stood 7 feet 1.5 inches.
Kiel auditioned and won the role of Jaws in 1977's 'The Spy Who Loved Me'. His unique stature and glimmering teeth making him a fan favourite henchman from the moment the film hit the cinema. Jaws was so popular with audiences that producers brought him back in 'Moonraker'.
On his second Bond outing in 'Moonraker', the writers made the most of the comic elements to Kiel's silent character and paired him up with Blanche Ravalec who played his unlikely lover, Dolly. Kiel suffered from acrophobia, and during the cable car stunt scenes in 'Moonraker', a stunt double was used because Kiel refused to be filmed on the top of a cable car at over 2000 feet high.
Kiel was due to appear at a James Bond convention in Kankakee, Illinois, on Saturday 6th September 2014 but had to cancel due to breaking his leg after a fall at his home and was hospitalized in Fresno, California. Richard Kiel passed away in hospital a few days later on Wednesday 10th September 2014 at the age of 74. He is survived by his wife Diane Rogers and his children. [Full Story]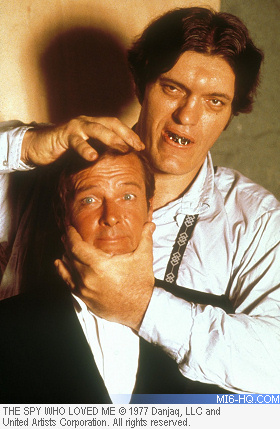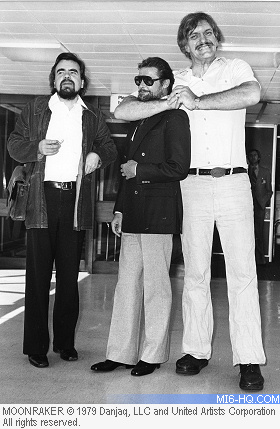 Geoffrey Holder (1930-2014) Born in Trinidad and Tobago in August 1930, Geoffrey Holder came from a talented family. Screen credits for Holder were sporadic throughout the sixties, and somewhat typecast thanks to his looks - his tall wiry figure - and distinctive Caribbean accent.
He actor won his role in the 1973 James Bond adventure, 'Live And Let Die', opposite Roger Moore in his debut as the famous agent 007. Holder was an obvious choice for the role of Baron Samedi, Loa of the dead, due to his towering 6'6" height, cackling laugh, and dance skills. He choreographed his own movement for the film and professed to be petrified of snakes, despite his role calling for the actor to fall headfirst into a coffin full of them in his final duel with 007.
Holder passed away age 84 on Sunday 4th October in Manhattan, NY after complications relating to pneumonia. He is survived by his wife of 59 years, Carmen de Lavallade. [Full Story]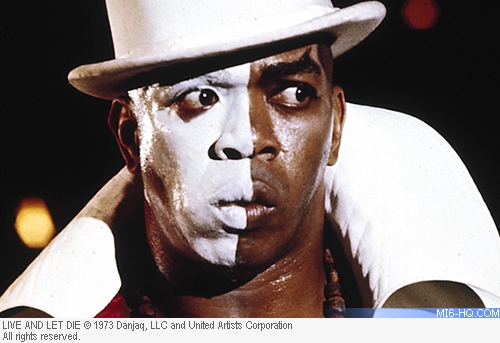 Richard Graydon (1922-2014) British stunt coordinator Richard 'Dickie' Graydon was born in 1922. His career in film started with acting, with his first screen credit coming in 1952 as he played one Robin Hood's Merrie Men in the film of the same name. His true calling of stunt work would begin in 1963 with James Bond's second big screen adventure 'From Russia With Love'. Graydon would also perform in the next three 007 outings with Sean Connery, also going uncredited on 'Goldfinger', 'Thunderball', and 'You Only Live Twice' where he also appeared on screen as a Russian cosmonaut.
Graydon moved up to become James Bond's stunt double when George Lazenby landed the title role for 1969's 'On Her Majesty's Secret Service.' Graydon performed in 10 Bond films in total, including 'The Spy Who Loved Me', 'Moonraker', 'For Your Eyes Only', 'Octopussy' and 'A View To A Kill'. In 'Octopussy', Graydon exercised his formidable horsemanship skills when doubling for 007, fought on the train rooftops, and also played the part of 'Francisco the Fearless'.
Richard Graydon passed away during his sleep at a nursing home in England on the night of Monday 22nd December 2014. He was 92. [Full Story]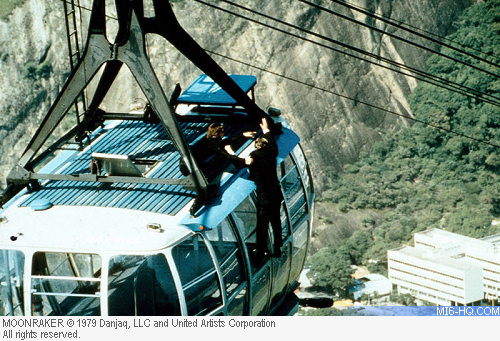 You Might Also Like
Biography
Stunt coordinator Richard Graydon, who worked on 10 James Bond films, has died at the age of 92
Biography
German actor Gottfried John, who played General Ourumov in 'GoldenEye', has died aged 72
---
Share The Story