| | |
| --- | --- |
| | Location, location, location! MI6 wraps up all the news on upcoming shooting from around the world on the 22nd James Bond film... |
Production Diary (4)
16th January 2008
As MI6 first reported back in October, the Bond 22 production team were planning to film some sequences at Lago di Garda (Lake Garda) in Italy. At the time, details were sketchy. A well researched report by a German news outlet confirmed new details of the Italian shooting schedule for Daniel Craig's second James Bond outing.
At the end of last year, writer Paul Haggis spent the final few days of his Bond 22 script-writing exercise at Lake Garda, and the atmosphere must have rubbed off as nearby locations feature in the story. The director of tourism of the region, Marco Girardi, confirmed that the Bond 22 film crew will visit the Lake Garda region for ten days at the end of April. Filming is reported to focus on the area around the shores of the famous lake.

Action will take place along the narrow streets and winding roads around the lake in the villages of Torbole, Limone sul Garda, and Tremosine. MI6 understands the scenes filmed at these locations will feature early in the movie.


Above: Bond 22 action will be filmed along the shores of Lake Garda in Italy in late April.
The production team visited the Stelvio pass in the Italian Alps back in August to recce for a possible car chase, reported to feature the Aston Martin DBS versus the new Ford GT 40.

Above: A church in the old quarter ("El Casco Antiguo") of Panama City

Tailored For Panama
Scenes for Bond 22 will be filmed in Panama in the middle of February in a colonial district of its capital city. The filming will take place at two sites in the old quarter ("El Casco Antiguo") of Panama City, where the National Institute of Culture and some private buildings will be used. The shooting will last almost one week and it will take place mainly in the afternoon and evening, said Ariel Espino, the director of the Office of the Casco Antiguo.

Espino met the last month with the chief location scout from Eon Productions. "We offered full collaboration to him, to help them to handle of the traffic, to isolate the area from automobiles and people", said Espino. He hopes the film will attract tourists from around the world to the area.

According to reports, it is understood that more filming will take place in the province of Colón, north of the capital city. 700 Panamanian extras will be needed for the shoot. Back in December, MI6 reported that casting for extras in the film would take at the Teatro la Quadra.
Four years ago, former James Bond actor Pierce Brosnan filmed scenes for "The Tailor of Panama" in the old quarter, which has been declared World Heritage Site by UNESCO.
Another Aerodrome
MI6 has learned that filming for Bond 22 is to take place at Farnborough Aerodrome in the south of England. According to witnesses, an airport scene is to be shot there and a lot of the sign posts have been removed to make it appear that the location is that of a different country. Filming is scheduled to start on February 8th and is to take place in the evening and through night shoots. Stunts are apparently being rehearsed on location. On Daniel Craig's debut 007 movie "Casino Royale", the runway at Dunsfold Park Aerodrome in Surrey doubled for Miami International Airport.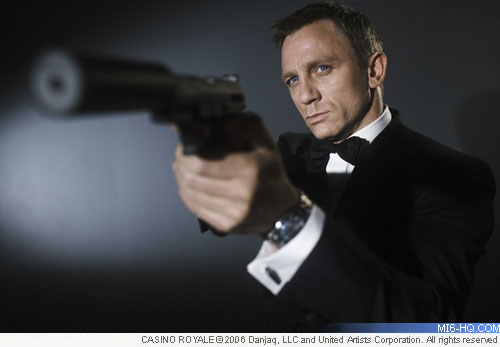 "Olga and Gemma are going to be amazing," he said with a grin, "they're both very sexy ladies, which is very good. Olga's the main Bond Girl in the movie but Gemma's no less important."
-- Daniel Craig on his new female co-stars
Craig On Bond 22
Whilst on a rare day off from production on the 22nd James Bond film to do PR for his small budget project "Flashbacks of a Fool" - which he filmed last year - Daniel Craig spoke briefly to Rotten Tomatoes about the upcoming 007 adventure. "It carries on from where the last one stopped," Craig told RT, "We set up in the last one that there's this organisation that is destabilising the world's economy because they want to take it over, and that's his job now, to go out and stop them."
Casting news has recently revealed a potential villain in Julian Schnabel's The Diving Bell and the Butterfly star, Mathieu Almaric. "I'm over the moon with his casting," Craig told RT, "I met him very briefly on Munich but I didn't do any scenes with him. Now I've got to know him on Bond and I saw the Schnabel movie and thought it was amazing."

On the suggestion that he was the Algerian boyfriend of Vesper Lynd, Eva Green's character in Casino Royale, RT again saw the wry smile as Craig hinted, "there is a connection there, yes..."

Is the challenge lessened this time around? "I don't think you can say there's ever less pressure when you make a $200 million movie," Craig told RT, "I think the pressure is plain to see. We've got to make it as good if not better than the last one, and that's the thing that matters. I'm no less nervous than I was but I'm very happy with what we've put together for this one. The fact that Marc Forster's come in to direct it just makes my job a lot easier. He's taken care of a lot of stuff that I just don't have to think about and I'm just getting on with acting."



And, he says, the pressure of taking on the mantle of James Bond gets no easier the second time out of the gate. "I don't know if I'll ever feel comfortable with it," he said, "I mean, it's James Bond. I don't know if I'll ever get to that place and get Zen about it; it's not that kind of role. But I'm enjoying what we've shot so far and I'm planning to enjoy as much as I can of this filming process. Because, otherwise, why do it?"
Swiss Role
According to local reports, another Swiss actor is up for a role in Bond 22 - Philipp von Schulthes. If confirmed he will join fellow Swiss-born actor Anatole Taubman (playing a villain), and director Marc Forster who grew up in the country, in the 22nd James Bond film. Actor Philipp von Schulthes, 34, was "at the casting" confirmed his press agent Sohela Emami. He is "up for a nice role in the film", but "has not signed anything yet". Known mostly as a stage actor in his native Switzerland, last year his film career took a boost with a role in "Valkyrie" alongside Tom Cruise.
120 Minutes
In brief Bond 22 news, director Marc Forster was asked if the 22nd James Bond film would be around the same length as series record-breaker Casino Royale (144 minutes). Forster said, "I can only speak to myself, but I focus on a running time of exactly two hours." When asked how his movie will stack up against the previous outing helmed by Martin Campbell, Forster said "with Casino Royale, the producers created a new kind of James Bond film. Here I would like to tie."