Bond Girls At The BAFTAs
8th February 2015
Lea Seydoux and Monica Bellucci talked SPECTRE whilst on the red carpet at tonight's BAFTA award ceremony
By MI6 Staff
---
Bond girls Lea Seydoux and Monica Bellucci joined Ralph Fiennes and Hoyte Van Hoytema at the BAFTA's awards ceremony tonight. In the video below both ladies were cornered for an interview and inevitably the conversation turned to 007.
"I'm very happy to be part of this film, it's like a dream... I couldn't imagine that one day I'd maybe be a Bond girl." - Lea Seydoux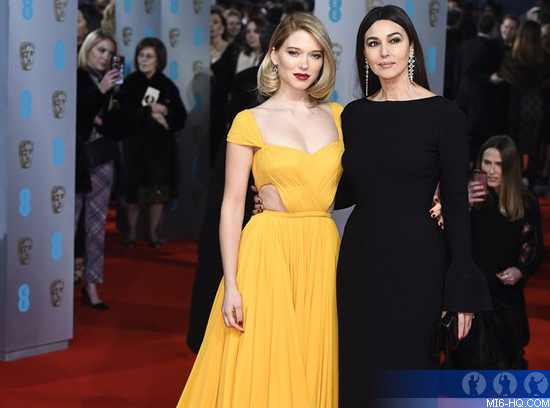 Bond alumni were well represented at the ceremony, with nominees including Ralph Fiennes, Rosamund Pike, and Hoye Van Hoyema: Fiennes for "The Grand Budapest Hotel", Pike for "Gone Girl" and Van Hoytema for "Interstellar". Sadly none of the above took home the awards. Still, Fiennes' collaboration with Wes Anderson on "Budapest Hotel" was hotly received and the picture took home five awards, including Original Screenplay, Costume Design and Original Music.
Tribute was also paid to members of the Bond family who've passed on, including cinematographer Oswold Morris and Jaws actor Richard Kiel.
You Might Also Like
Biography
MI6 profiles the Italian actress who will play Lucia Sciarra in the 24th 007 adventure, SPECTRE
Events
'Skyfall' wins Outstanding British Film and Original Music awards at this year's BAFTA ceremony
---
Get Bond in Your Inbox
Sign up for occasional email updates from MI6. Get notified of breaking Bond news, and digests of recently releases features:
Share The Story