London's Calling
Even though 007 working for MI6 should limit his involvement to missions outside UK soil, it seems Bond gets thrown into the action in Westminster when an attack on the Houses of Parliament erupts.
Armed with his trusty PPK and gadget equipped jetpack, Bond takes on the threat in a stunning aerial dog-fight above Westminster.
Concept artwork is created during the early design stages of a game production to help developers visualise the locations, buildings and style of the game. As with movies, concept artwork is a key tool in developing a production style and essential for conveying ideas.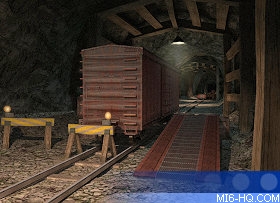 Above: Shot of the scenery where a bike chase will rip through an underground box-car railway later in the game.