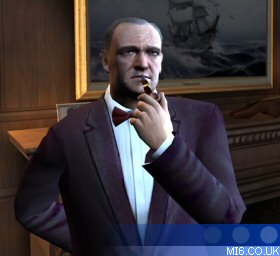 Above: M as he will appear in the game.
M
Another first for a Bond game is the inclusion of the original M, Sir Miles Messervy, played by the late Bernard Lee.
Fleming's creation for James Bond's boss, with those "damnable clear grey eyes", will be based in a classically designed office reminiscent of M's adobe in the 60's movies.
MI6 will also feature Miss Moneypenny and a retro Q-Lab, complete with Q in the likeness of Desmond Llewelyn.
Below is the first screenshot demonstrating the new laser watch that 007 will be equipped with for his missions in "From Russia With Love".