Cold War Spy Pocket Manual Review
30th November 2015
Edward Biddulph inspects the new publication that reveals surprising real-life spy tactics
---
"The Cold War Spy Pocket Manual: The Official Field-Manuals for Espionage Spycraft and Counter-intelligence", edited by Philip Barker (Pool of London, 2015)
James Bond is rather fond of manuals. Among the books in his library are "How to Play Your Best Golf All the Time", by Tommy Armour (1954), which was referenced in "Diamonds are Forever", and "Scarne on Cards", John Scarne's comprehensive guide to card games (and cheating) published in 1949 and read by Bond in "Moonraker". In "Goldfinger", Fleming tells us that Bond had been working on a manual of his own: Stay Alive!, which was to contain the methods of unarmed combat used by secret services around the world.
If Bond had finished it, the book might have had a place in Philip Barker's volume, "The Cold War Spy Pocket Manual", which reproduces extracts of tradecraft manuals and other once highly classified documents of British, American, East German and Soviet intelligence agencies.
The book contains everything you would want to know about tradecraft. Passages from the curiously named "A Digest of Ham", written in 1940, describe techniques of interrogation practised by MI5 agents at the ominous sounding Camp 020. Results were guaranteed with a combination of, among others, psychological tricks to demoralise the prisoner, the classic 'blow-hot blow-cold' approach, and the threat of imprisonment in Cell Fourteen.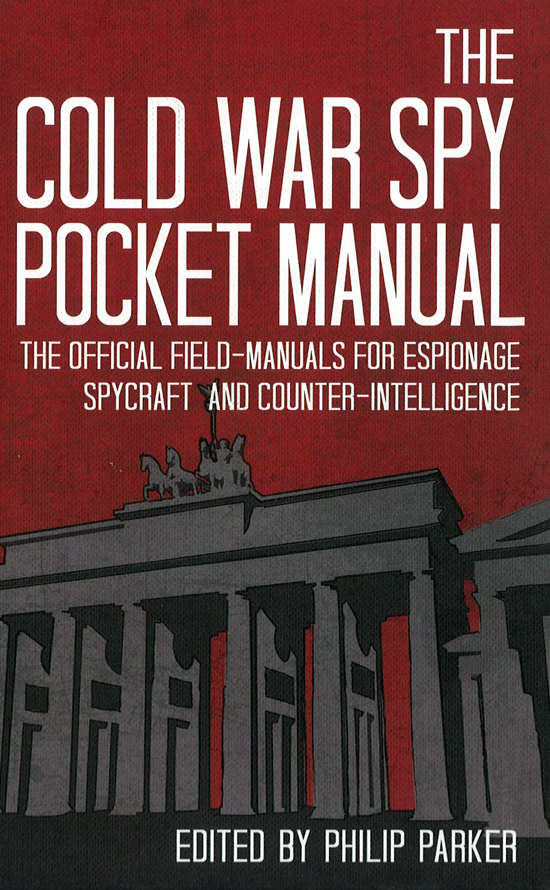 Then there are recognition signals outlined in a training manual prepared in 1953 by the CIA. In today's technological age, some of these methods are distinctly old-fashioned, not to say unintentionally comical. If you saw two people in a park or restaurant examining the pattern of the laces of each other's shoes, or one following the other trying to see if there was a drawing-pin on the heel of the shoe of the person in front, the chances were they were two spies attempting to meet and verify their identities.
For Soviet agents operating in the USA, there was a training manual (the Penkovsky Papers) that described how agents should behave and communicate without raising suspicion. It reveals, for example, that Americans like to keep their hands in their pockets and chew gum, and, as golf courses were good places for agents to meet, advises agents to learn the rules of golf.
Another document, written by Viktor Surorov, an officer in Soviet military intelligence (the GRU), describes how GRU residencies were organised in embassies in the West. Each operated with several staff - the resident, of course, a cipher officer, a technical services officer, and radio monitoring station officers, and many others. As the guide notes: 'there are no genuine diplomats'.
Philip Barker has assembled not just what may seem to us to be a set of redundant and faintly ridiculous training manuals, but, more remarkably, documents that cut to the heart of the Cold War and the faultlines between East and West. A document written by the KGB in 1983 presents an assessment of NATO preparations for nuclear war. Agents were told to look out for the increased purchase of blood supplies or increased activity in government buildings outside office hours as a prelude to a NATO nuclear strike. There is also a highly readable account, dating to 1956, of the Soviet discovery of a wire-tap tunnel extending into East Berlin.
These real-life accounts and manuals may seem remote from the fantasy world of James Bond, but as I read the book, I could not help thinking of Ian Fleming's novels. In "From Russia, with Love" (1957), the description of how the psychopath Donovan Grant comes to be chief executioner of SMERSH, and how he is trained, has more than a ring of truth to it. The GRU's guide to its residencies and organisation states that 'executive agents' carry out assassinations and are recruited from criminal classes and are naturally brutish characters. The wire-tap tunnel in East Berlin, meanwhile, reminded me of the tunnel under the Russian embassy in Istanbul which allows Bond and Darko Kerim to catch a glimpse of Tatiana Romanova. (Interestingly, Fleming mentions the discovery of the Berlin tunnel in "Thrilling Cities" (1963).)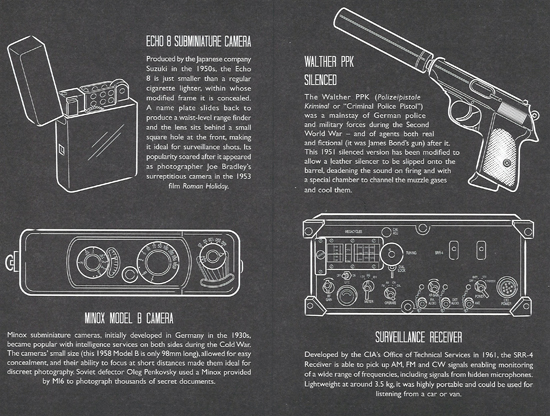 In "The Man with the Golden Gun" (1965), the advice the brainwashed James Bond receives from Colonel Boris to prepare him to kill M (to stay at the Ritz to give the appearance of high-living consistent with the KGB's perception of Bond) might have come from the pages of the Penkovsky Papers. Fleming's description of the interrogation methods used to vet members of the public who wished to gain access to the Secret Service (including bullying interrogation and threats of imprisonment) could be from MI5's A Digest of Ham.
And it seems the threat of death faced by Le Chiffre at the hands of SMERSH agents for purloining Soviet funds in "Casino Royale" (1953) mirrors the genuine threat faced by every Soviet agent who made a gross error. For instance, following the loss of a cache of top-secret documents hidden behind the skirting board in the Russian embassy in Tehran, the KGB agent Vladimir Kuzichkin, in fear of his life, defected to the West. As he wrote in his memoirs, 'In my country, those who stumble and fall are trampled to death'.
If you thought James Bond did not operate in the real world of espionage, or that the plots of Ian Fleming's novels were a far cry from the murky landscapes created by John Le Carré or Len Deighton, The Cold War Spy Pocket Manual makes you think again. This hugely enjoyable pocket book (yes, it does actually fit in a jacket pocket) offers fascinating snapshots into the dangerous and sometimes hot events of the Cold War, and deserves a place in the library of any aficionado of Ian Fleming's novels.
Get Bond in Your Inbox
Sign up for occasional email updates from MI6. Get notified of breaking Bond news, and digests of recently releases features:
Share The Story
The opinions expressed in this review are those of the author and do not necessarily reflect those of MI6-HQ.com or its owners.