The Bond Brand (1)
28th February 2014
Guest writer Julian Parrott inspects the promotional partnerships 007 has formed over the last 50 years and reflects on the brand of Bond himself
---
The Brand is Bond, James Bond. Oddly, given his line of work, James Bond has become the perfect pitchman for a plethora of products. As a truly global cultural icon - about half the world's population is familiar with the Bond image - the socio-cultural and commercial influence of Bond is powerful and pervasive. James Bond continues to be a brand, licensed to sell as the movies have set the gold standard for commercial tie-ins and product endorsements.
Although Bond proudly represents Her Majesty's Secret Service, he continues to represent a select few corporations who are hoping their association with the Bond milieu will tap a worldwide audience of potential consumers. Branding within the Bond oeuvre is so ubiquitous and pervasive that new movies are now part of a multimedia, integrated image campaign. The Bond movies have become an ideal vehicle for commercial endorsements and occasional vulgar placements of products. Although the celluloid Bond has been overtly and covertly endorsing airlines, automobiles, watches, cigarettes, and vodka for decades, the question remains: what is the Bond consumer really buying and why?
Ian Fleming did not initially intend to include overt product placements in the early novels. Although there is some evidence to suggest he personally benefitted from his name checking of products in his later novels, the author famously passed a number of his own brand partisanships along to his secret agent. Fleming's initial intent wasn't to advertise such products, but to do three things: create verisimilitude with descriptions of real products, to add technical expertise and, importantly, to quickly establish the character of James Bond. Ironically, the literary Bond detested overt consumerism and decried as vulgar fashion's fads and trends. Fleming, however, brought a journalist's eye to the description of Bond's cars, guns, and milieu. We get a deeper sense of Bond's character through the brands he prefers. Naturalistic product placement, rather than overt commercialism, therefore, has been evident from the first Bond novel on.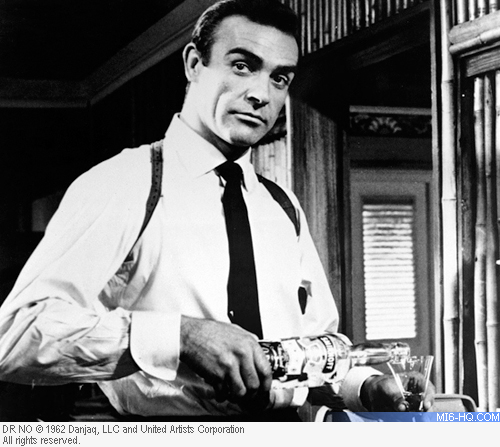 The Bond movie producers, EON, however, were early adopters of commercial product placement in so far as they incorporated certain brands into the Bond movies in return for financial or promotional consideration. The first Bond movie, 1962's "Dr. No" highlighted a number of brands through overt product placement including Pan American, Chevrolet, Ford, Dom Perignon, Rolex, and Smirnoff. It was such a successful model that EON would continue to replicate it through subsequent movies. And, Hollywood soon followed the formula.
Although the Bond franchise pioneered a product placement formula they didn't invent it. It's been around almost as long as cinema. Lever Brothers' Sunlight soap made an appearance in the Lumi&egrav;re brothers' 1896 short, "Washing Day in Switzerland", and product placement has appeared haphazardly in movies from the 1930s through the 1990s. Yet, there is nothing haphazard in EON's use of product placement and commercial endorsements. It was the Bond movies that developed product placement as an important and integral funding-model for modern movie making. They established a formula that many studios have attempted to replicate. EON recognised that product placement is most effective when it is mediated by audience perceptions of brand interaction with character and plot; so, when Bond expresses a preference or a penchant for a particular product or brand, the audience notice it. The audience perception of Bond is of a suave and refined gentleman adventurer with a taste for the finer things in life, it creates a sense that if it's good enough for Bond then it's good enough for me. It is Bond's iconic status as an arbiter of taste and style that ensures that any brand associated with the character reaches an audience. A product that is associated with Bond is imbued with a certain cache, and, given the popularity of the Bond canon, the brand will have a long shelf life in the audience's imagination and ability to recall the product. Brands have long recognised the positive connections Bond brings to their products; Bond is indeed a persuasive pitchman. Most people, for example, have never seen an Aston Martin, let alone had the money to afford one, but Bond's DB-5 is considered the 'most famous car in the world.'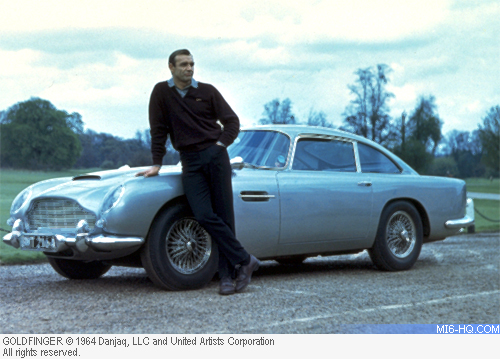 EON pioneered automobile product placement almost by accident. Bond's Bentley was only fleetingly glimpsed in "From Russia With Love" but the Aston Martin DB-5 of "Goldfinger" (updated from the novel's DB-3) became an imagination-capturing, gadget-laden plot element. The car was a huge success and quickly added to the global epidemic of mid-1960s Bondmania. The franchise subsequently became a vehicle for vehicles. Fords were initially the most conspicuous vehicles through the 1960s and early '70s. Then, American Motors Corporation scored a coup with a deal for The Man With The Golden Gun (1974), Lotus in "The Spy Who Loved Me" (1977) and, briefly, "For Your Eyes Only", (1981), before the deal returned to Ford. Then, later in the '80s, Aston Martin briefly returned for one movie in The Living Daylights (1987) before the franchise's reboot with BMW in GoldenEye (1995).
BMW purportedly paid some $20 million for an integrated placement and promotion campaign. It was money well spent. News coverage of Bond's switch from Aston Martin to BMW generated hundreds of millions of dollars of media exposure for BMW and Bond. One result of the media exposure was that the entire first year's production of BMW's Z3 was pre-sold. BMW wanted the association with Bond - not only to boost sales for a brand new vehicle - but to make a cultural statement that the Z3 was a technologically advanced, sexy, exciting, speedy, and adventurous vehicle. It was a successful association and, not surprisingly, therefore, BMWs made return appearance in "Tomorrow Never Dies" (1997), a film which, at the time, had the largest product-placement deal in history. Along with BMW seven other corporations: Avis rental cars, Ericsson mobile phones, Heineken beer, L'Oréal makeup, Omega watches, Smirnoff vodka, and Visa credit cards covered the film's entire $100 million production budget.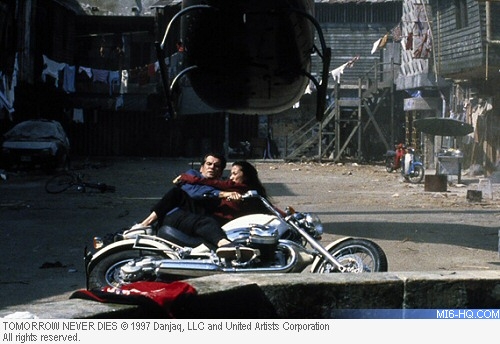 EON clearly continues to manage the Bond brand's fantasy appeal while taking some chances with the accessible and attainable, Heineken being the prime example. More controversial than the relationship with BMW, Bond's connection to Heineken caused a stir of concern among casual viewers used to Bond quaffing Champagne or vodka-martinis (aficionados are well aware that the literary Bond drank pretty much anything and actually had a taste for Miller High Life and even the celluloid Bond had previous connections to Red Stripe ["Dr. No"] and, gasp, even Budweiser ["License to Kill"]). The partnerships with BMW and Heineken were an attempt to appeal to a younger male demographic and who better to endorse a global brand but a global icon renowned for his taste, refinement, and masculinity.
By the twentieth Bond film, "Die Another Day" (2002), EON had twenty corporate partners who together contributed an estimated $70 - $120 million to promote their products. The movie saw Ford again return as a corporate partner; its ownership of Aston Martin along with other marques, Jaguar and Land Rover, contributed to the return of 007's favourite car brand and saw him not only behind the wheel of the Vanquish but doing battle against another British icon, the Jaguar XKR. As the AMC (American Movie Channel) pointed out, Bond wore an Omega Seamaster watch, carried Samsonite luggage, flew British Airways, drank a Finlandia vodka-martini, shaved with a Norelco Spectra, sported a Kodak camera, and talked on a Sony Ericsson mobile phone. His CIA colleague Jinx (Halle Berry) wore Revlon makeup and drove a red Ford Thunderbird. The product placements were so obvious and aggressive, and the film was nicknamed by some: "Buy Another Day."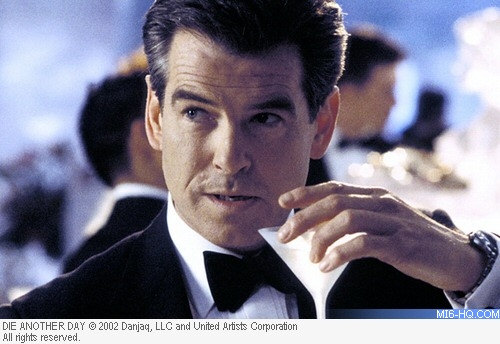 Share The Story