| | |
| --- | --- |
| | Production Designer Syd Cain, who worked on five James Bond films from "Dr No" to "GoldenEye", has died aged 93... |
Syd Cain (1918-2011)
21st November 2011
Production designer Syd Cain was born on 16th April 1918 in Grantham, Lincolnshire, England.
His career in film spanned almost 50 years, starting as a draughtsman on the 1947 film "The Inheritance" for the production company Two Cities Films at Denham Studios, where he went on to work on several productions. Prior to getting in to film, Cain served during World War II, where a number of skills would later prove useful. In 1954, Cain continued his draughtsman duties but this time for Warwick Film Productions on "Hell Below Zero" where Albert R. Broccoli was co-producer.
Although the James Bond film series was still a few years away form kicking off, Cain collaborated with a lot of the talent that would form the 'Bond family'. His first film as Assistant Art Director was "The Cockleshell Heroes" (1955), again for Broccoli's Warwick Films, with 007 writer Richard Maibaum and director of photography Ted Moore. Other high profile films in this pre-Bond era included "Our Man in Havana" (1959) and "Lolita" (1962).
Broccoli hand-picked their first Bond crew largely from his experience with Warwick Films, and selected Cain as his Art Director on "Dr. No", where one of his most memorable contributions was the dragon tank on Crab Key island. Working under legendary production designer Ken Adam, the team created an unique look for the film which is still as stunning today as it was 50 years ago.
Next up was "Call Me Bwana" for Saltzman & Broccoli's EON Productions, before he continued Bond duties on "From Russia With Love". When Ken Adam was unavailable to return, Cain stepped up but was credited only for Art Direction rather than Production Design. Highlights of Cain's work on the second Bond film include the luxurious Chess Match set, where he echoed the theme of a pawn throughout the design, and 007's customised attache case, which is still one of the most recognisable of the Bond gadgets.
With Adam returning on "Goldfinger", Cain bowed out from Bond for a while as he worked as Production Designer on films such as "The Amorous Adventures of Moll Flanders" (1965), "Fahrenheit 451" (1966) and the Harry Palmer adventure "Billion Dollar Brain" (1967" for Harry Saltzman.
007 came calling again in 1969 when Cain returned for "On Her Majesty's Secret Service", this time in the top job as Production Designer. This was perhaps the pinnacle of his career and he was responsible for Blofeld's iconic hideout at Piz Gloria. EON had to pay out for a complete interior refit to get the look that production designer Cain was after when the Swiss authorities refused planning permission for his original plans and a fully functioning helicopter pad also had to be built at EON's expense. This still proved cheaper than paying for another set of Adam extravagances however.
When Sean Connery returned for "Diamonds Are Forever" in 1971, so did Ken Adam, so Cain dipped out of Bond again to work on "Frenzy" and "Fear Is The Key". He returned as Art Director for "Live And Let Die" in 1973, where he designed many of the film's set pieces and gadgets, including Bond's buzz-saw Rolex watch, which recently sold at auction for almost $200,000.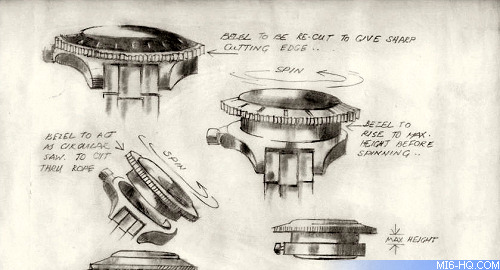 Above: Original sketch by Syd Cain for 007's magnetic buzz-saw Rolex watch. The watch had to be adapted for the buzz saw feature by cutting the bezel's edges into sharp teeth and modified in order for it to rise to maximum height before spinning. The buzz saw is activated by compressed air blown through a tube onto specially constructed vanes, causing the bezel to rise and rotate.
Although he wouldn't work on the Bond series with Roger Moore after his first outing as 007, Cain was Production Designer on four of his non-Bond outings during his tenure: "Gold" (1974) and "Shout at the Devil" (1976) for director Peter Hunt, and "The Wild Geese" (1978) and "The Sea Wolves" (1980) for producer Euan Lloyd. Cain also worked in television in the mid-70s as Production Designer on numerous episodes of "The New Avengers".
His Production Designer duties continued at a slower pace through the 1980s with credits such as "Lion of the Desert" (1981), "Supergirl" (1984), "Wild Geese II" (1985) and finally "Tusks" (1988). Switching to a storyboard artist, Cain drew for "Who Framed Roger Rabbit" (1988) and "The Neverending Story III" (1994) before returning to 007 duty for one final time on "GoldenEye" in 1995 to storyboard the film and design gadgets for Q-branch. This final James Bond credit meant that Cain had worked in the art department on the debut films of four 007 actors: Sean Connery, George Lazenby, Roger Moore and Pierce Brosnan.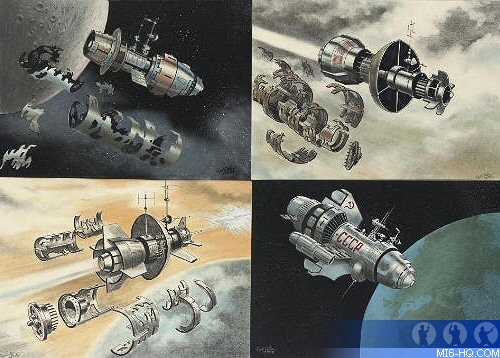 Above: Syd Cain designs for the GoldenEye EMP satellite weapon.
His last production credit was as a storyboard artist for Michael Cain's 2000 film "Shiner". He remained active in the film community, attending conventions and reunions.
Syd Cain died on Monday 21st November 2011 at the age of 93.