Vectis Auctions is proud to announce a two day Film and TV auction held on 24th and 25th October 2013. The centrepiece of this sale will be the James Bond treasury of avid collector Daryl Burchmore. As well as die-casts and other merchandise from the Bond film promotional machine, a series of Ian Fleming first editions will be up for sale. The books include "The Spy Who Loved Me"; "For Your Eyes Only"; "Octopussy"; "Dr No", and many others.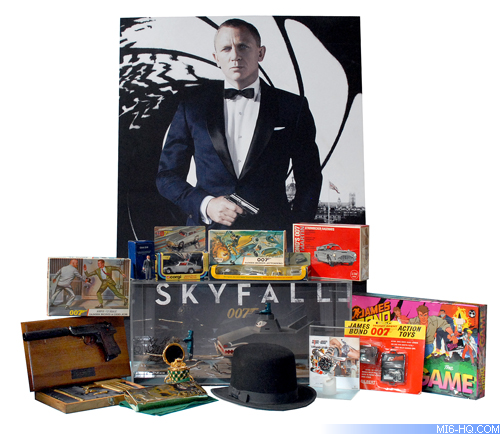 Above: A selection of collectables up for sale.
Collector Burchmore was born on 8th October 1962 - just three days after the World premiere of 007's debut screen adventure, "Dr. No" - and into a family of James Bond fans. "My mum was a Sean Connery fan," Daryl says, and his father was a big reader, with Fleming amongst his favourite authors. His first Bond experience was a visit to the cinema - a double bill of "On Her Majesty's Secret Service", and "Live And Let Die". "I left totally hooked by the music, the famous opening gun barrel sequence in which a white dot bounces across the screen," he explains.
When he left school he began to collect Bond merchandise - starting with the various trinkets, toys, and tie-ins that came with Bond's unearthly adventure: "Moonraker", which was screening at the time. In the course of his collecting hobby, Burchmore met the founders of the James Bond British Fan Club, Ross Hendry and his friend Peter Ettedgui. The latter would go on to help create the 2012 celebratory documentary, "Everything Or Nothing." He has also had the privledge of attend various Bond premieres, meeting all six 007 stars, and has specially fond memories of meeting the late Desmond 'Q' Llewelyn. "Desmond also kindly opened my 1995 exhibition 'From Eastbourne With Love' at the Towner art gallery in the town." The Walther PPK that Llewelyn posed with for promotional photos is one of the centrepieces of Burchmore's collection. As well as 'From Eastbourne,' the collection has been on display at the Beauliea motor museum - home of 'Bond In Motion' - at Yesterdays World, Pinewood Studios and Collectomania.
Visit Vectis Auctions to read more or browse the lots