Prima formally announced their Official Game Guide to the forthcoming James Bond videogame "From Russia With Love" today. The publisher, who has supplied strategy guides to all the EA 007 licence games since "Tomorrow Never Dies" back in 1999, released details on the 128-page book to tie in with the new game starring Sean Connery:
"Prima's Official Game Guide includes exhaustive and must-have maps, information on every gadget and weapons, and the best situation in which to use them (including the all-new Serum Gun!), tips for handling multiple enemies at once, and more!"
The press release also included some tidbits on the game, "Improvements include a single game engine to increase smooth transitions when using an in-game vehicle, a new Focus Mode mechanic, smarter AI (the baddies gang up on you!), and improved graphics."
Planned Game Release Date Confirmed
Traditionally, Prima have released their strategy guide during the same week of release as the new James Bond game. Prima have listed the release date of the "From Russia With Love" game guide as October 11th 2005 in the USA, which backs up earlier reports on MI6 from EA Australia that the game is targeted for release on October 10th 2005.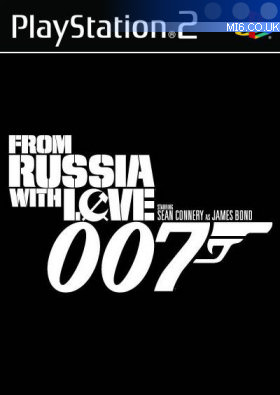 Above: Draft box art for "From Russia With Love" on the PlayStation 2 (image not final).