| | |
| --- | --- |
| | MI6 previews the forthcoming Sony PSP version of the latest James Bond videogame "From Russia With Love" - due out March 14th 2006... |
FRWL Sony PSP Preview
18th January 2006
MI6 exclusively revealed back in May 2005 that a version of From Russia With Love by EA Games was being developed for the Sony PSP handheld, and EA officially announced the title back in November. Now with only a couple of months to go before its release, MI6 can lift the lid on the forthcoming Sony PSP version of the latest James Bond videogame "From Russia With Love".
Due out on March 14th, the Sony PSP incarnation of "From Russia With Love" (released on PlayStation 2, Xbox and GameCube consoles in November 2005), will be adapted to fit the small handheld platform. All driving and boat missions have been cut from the PSP port, but the good news is that the iconic jetpack missions remain. The PSP version will have 8 missions in total, each including 2 mini-games.
The aiming system, which was criticised on the console version for being too easy, will be made more challenging on the PSP with a blend of the console auto-aim and a more traditional cross-hair.
As with the console version, players will be able to upgrade their weapons and gadgets by purchasing upgrades. In the PSP edition, you gain credits through skilful use of the focus and zoom aiming system, and upgrades to your arsenal can be made on the fly without having to wait for separate Q-Branch menu screens in between missions. A new gadget will be introduced too - the "Q Dart" - which is a kind of fragmentation grenade that spits out darts at goons within close proximity. However, the deadly attache case turret gun and sonic cufflinks will not be making the transition to the PSP.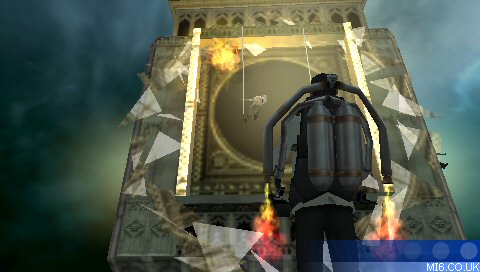 On the multiplayer front, the PSP's wi-fi capability will be fully featured to allow gamers to launch into deathmatches. Despite their glaring omission on the console version, multiplayer "bots" will feature on the PSP, allowing players to either practice deathmatches or beef up games with extra opponents. There will be four multiplayer maps, three of which are new to the PSP version: sniper, factory and train. The multiplayer modes will also be boosted with the addition of a "last man standing" concept, and the number of available skins will be increased with more classic Bond villains - including Jaws!
"From Russia With Love" Sony PSP Features
Single Player Mode: The single player mode consists of 8 exciting missions, split into 32 stages for extended gameplay. Players begin in London, using jet packs and helicopters to land their first mission. Following missions include Bond style rescues in the Gypsy Camp or a stealth venture through Sniper Alley.
Multiplayer Mode with Ad-hoc Wireless: The unique multiplayer mode allows players to go head to head in 3 different game modes, including death match, team death match, and last man standing. Each mode can be trekked on foot or zooming around in the classic Bond jet pack. New maps, new villains and Bots have all been added to make multiplayer on the PSP system even more compelling.
Classic Bond Gadgets and Weapons: Classic Bond gadgets and weapons give players the ability to play in the shoes of 007. Classic secret weapons include Jet Pack, Leopard Piercing Rifle, Laser Watch, Serum Gun, Q-Dart, Grenade and Bazooka and the all-new Q-Dart.
Bond Challenges: Players can delve into eight Bond challenges, each with unique strategies and rules. Locations range from London or a Gypsy Camp to a classic train or retro factory.
New Unlockable Features: Unlockables add to the extensive PSP gameplay and further Bond challenges.
Sean Connery: Provided his likeness and conducted voiceover for Bond
Latest Articles


Interviews

MI6 caught up with Karly Rothenberg, who voiced Rosa Klebb and Miss Moneypenny in the videogame adaptation of "From Russia With Love"

Competitions

Copies of the Sony PSP version of the latest James Bond game "From Russia With Love" are up for grabs to lucky MI6 readers