Designing 007 - Rotterdam
22nd October 2014
MI6 caught up with Jannet de Goede, curator of the Kunsthal, to find out how the roaming Bond exhibit is received in the Netherlands
By MI6 Staff
---
How did you get selected to host Designing 007?
We have a long and good relationship with the Barbican in London, and we do talk about the different projects we work on to see where we can work together. James Bond was one of the projects the Barbican was working on at the time and we expressed our interest in hosting it in Rotterdam. It was almost immediately a match.
How familiar where you with James Bond and the legacy?
Not more than average. The director of the Kunsthal, Emily Ansenk, has the DVD box of all James Bond films, and watches them occasionally. I have seen all Bond films from "A View To A Kill" (my 'first Bond') to "Skyfall" in the cinema. I've always been fascinated by the way Bond films are referenced in scenes in other movies and vice versa. It is a strong brand, instantly recognisable and iconic.
How much freedom did you have in creating the layout and selecting the items for display?
The guest curators, Lindy Hemming and Bronwyn Cosgrave, made the selection of objects for the exhibition. The design of the exhibition is by Ab Rogers Design and Praline. They made the layout in close consultation with the team at the Kunsthal.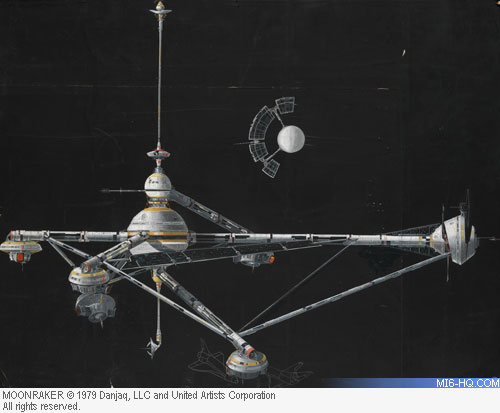 How long has it taken to set up the exhibition?
The construction in Hall 2, the decoration of the rooms and the preparations for installation took about two weeks. The unpacking of all material and installation of objects another 14 days, with a crew of approximately 15 people a day.
What new items will be displayed in Rotterdam, compared to the past exhibitions?
Octopussy's robe, from "Octopussy" (1983). Russian Statue reference maquette, from "GoldenEye" (1995) and Flame Throwing Bagpipes, from "The World is Not Enough" (1999).
What "Skyfall" items will visitors see?
Amongst others, several original props such as: The Skyfall Lodge Sign and the Stag Statue, Silva's Hat and his disguise package used in the underground scenes, and M's Royal Doulton Bull Dog Paper Weight; Bond's obituary, evaluation report, and death certificate; Bond's alias passport and Boarding pass to Shanghai.
Costumes worn by the actors including: Bond's dinner suit; Severine's evening dress and shoes; Eve Moneypenny's Casino Dress and sandals, and her Rooftop Costume (dress, shoes and coat); Models of the Floating Dragon Casino and of Skyfall lodge, plus two 1/3 Scale Aston Martin DB5 Models.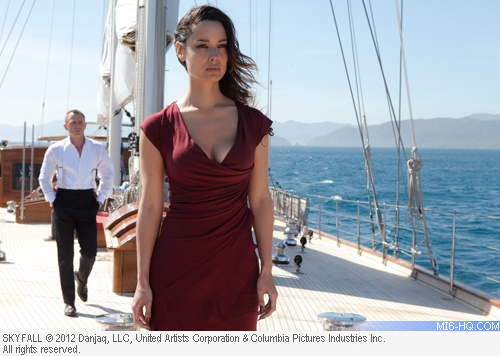 Can you tell us a little about the interactive displays?
The whole of the exhibition is very cleverly put together - combining props and costumes with film clips in which they are used and seen. This is complemented, where possible, with sketches and text explaining the thoughts and ideas of the filmmakers and designers. So you immediately can understand how these objects have played a role as prop in the Bond films.
What should people take away from this exhibition?
A Bond film is in itself an adventure when experienced or seen in the cinema, but producing and designing for such a big 'brand' is as big an adventure and exciting. As visitor you walk - as it were - through a Bond film: from M's Office, through Q Branch, visiting the Casino, exploring Foreign Territories, meet Villains and Enigma's and finally enjoying most spectacular chase scenes in Ice Palace. You almost can feel part of it when entering the Casino space.
What has been the most interesting thing you've learnt about 007?
All the movies are so 'spot on' in their time. The making of each Bond film is a long process where a lot of different experts bring their knowledge together to create a world where gadgets, and clothes, costumes and stunts, props and film-techniques are always 'state of the art' and very much of their time, or even ahead of their time.
You Might Also Like
Events
Contributor Stuart Kortekaas reports from the Melbourne opening of the global Bond exhibition, Designing 007
Events
The Barbican and EON Productions have officially announced the new 'Designing 007' exhibition, to open this July in London
---
Get Bond in Your Inbox
Sign up for occasional email updates from MI6. Get notified of breaking Bond news, and digests of recently releases features:
Share The Story