The World According To Blofeld's Cat
25th April 2015
The History Press are releasing a humour book written from the perspective of the arch-villain's furry accomplice
By MI6 Staff
---
Blofleld's Cat is not a charming street cat who has won the hearts of a nation; nor is he a cute, domesticated house cat with a bell attached to his collar. He is, however, a narcissistic, indignant, scheming, acerbic, brilliant, sociopath of a cat, whose lavish tastes and desire for destruction are unprecedented. He lives in a hollowed-out volcano lair in an unspecified location. This is his first book.
"The World According to Blofeld's Cat" is a collection of miserable musings from the angriest and most dangerous cat in the world.
Belonging to an international supervillain and arch-nemesis of the British Secret Service, Blofeld's Cat has witnessed his owner's despotic appetite for world domination, and it's rather made an impression on him.
Offering his own provocative thoughts on life's trivialities, such as social media, celebrity culture, reality television and online dating, as well as more controversial views on murder, politics and charity, Blofeld's Cat's opinions will shock, offend, outrage and, most importantly, amuse. "The World According to Blofeld's Cat" is the ideal gift for all lovers of tyrannical felines, and a perfect antidote to the many nauseating cute cat books.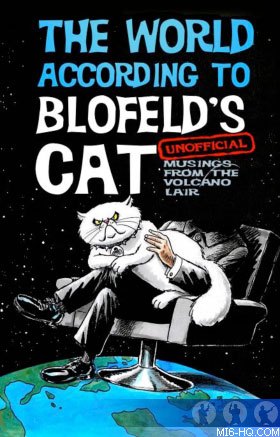 DATASTREAM:
Publisher: The History Press
Format: Hardback
Pages: 144pp
Illustrations: 40 integrated mono pics
Price: £7.99 / $11.68
Release Date: April 2015 (UK) / July 2015 (USA)
ISBN: 978-0-7509-5961-2
You Might Also Like
Collecting
Alec Mills, a veteran of seven Bond films, reveals behind-the-scenes stories in his new autobiography 'Shooting 007'
Collecting
MI6 previews a new book about James Bond creator Ian Fleming's time in Jamaica
---
Get Bond in Your Inbox
Sign up for occasional email updates from MI6. Get notified of breaking Bond news, and digests of recently releases features:
Share The Story