SPECTRE Speculative (3)
23rd January 2015
Edward Biddulph reflects on Bond's return to Austria, his penchant for the slopes and Fleming's time in Kitzbühel
---
James Bond returned to the ski slopes for the first time since "The World Is Not Enough" (1999) in January, as Daniel Craig, along with other cast members and a large production crew, filmed key action scenes for SPECTRE in various locations in Austria.
Snow-covered landscapes have a special place in cinematic Bond lore. Beginning with "On Her Majesty's Secret Service" (1969), scenes set within the snow and ice have featured in nine films, including a brief flurry of snow at the end of "Quantum of Solace" (2008). Snow is so closely associated with Bond that when director Christopher Nolan made the mind-bending film "Inception" (2010), he included a sequence involving a raid on a heavily-guarded snow-capped mountain fort in homage to the action set on Piz Gloria in "On Her Majesty's Secret Service". In Johnny English Reborn (Oliver Parker, 2011), Rowan Atkinson's eponymous agent's attempt to infiltrate a seemingly impregnable hideout in the Swiss Alps paid a similar tribute.
With the release early in January of an image of a clapperboard to mark the resumption of filming after the Christmas break, James Bond has reclaimed the snow. The photograph, taken on the shore of Lake Altaussee in central Austria, gives little away, but the scene number 65 shown on the clapperboard indicates that at least some of the snow-based action will take place midway through the film (for reference, this correlates to Bond's arrival in Macau in "Skyfall"). This will be no thrilling, but otherwise marginally relevant, pre-title sequence, as was the case in "A View To A Kill" (1985). The winter landscape appears to be as essential to the narrative in SPECTRE as it was in "For Your Eyes Only" (1981).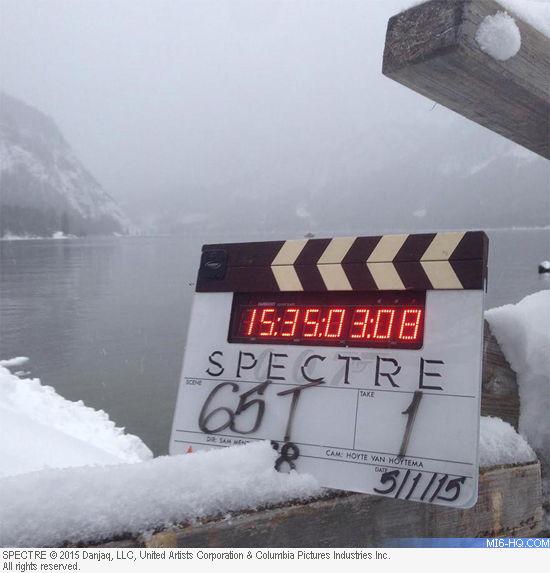 After Lake Altaussee, filming moved to Sölden, and then to Obertilliach, both in the Tyrol valley. Production images taken at Obertilliach promise explosive action and guns blazing, and again point to major action. We have not seen images of 007 on skis so far, but press reports suggested that Daniel Craig had been practising his skiing, and so Spectre might yet feature an exciting ski chase.
The stunning Austrian locations have particular resonance for aficionados of Ian Fleming. It was to the Tyrol valley that Ian Fleming came during his late youth to be educated under the tutelage of Forbes Dennis and his wife, Phyllis. Residing at Kitzbühel, Ian mastered German, explored psychoanalysis and, significantly, was inspired to write, beginning with an adventure called "A Poor Man Escapes".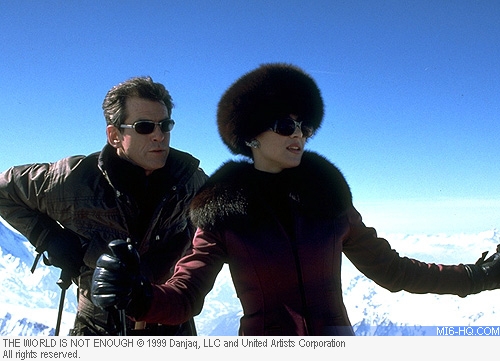 No doubt Ian Fleming used his own knowledge of Kitzbühel and the Tyrol valley when he set the story that Major Dexter Smythe recounts to Bond there in the short story, 'Octopussy'. And this is where Franz Oberhauser, Christoph Waltz's character in Spectre, comes in. In Fleming's story, Bond reveals that one Hannes Oberhauser, who had been murdered by Major Smythe, had taught the teenage Bond how to ski and had been something of a father figure to him. Quite how Franz relates to Hannes remains to be seen, but if press reports claiming that Franz is Hannes' son are correct, this sets up some intriguing possibilities.
Given that Christoph Waltz has not been required for the Austrian filming, it is unlikely that Franz Oberhauser will be taking over his father's duties as Bond's ski instructor. However, if Bond's relationship to Hannes as described in 'Octopussy' is retained in the film, then it is possible that Franz and Bond already know each other as the film commences, Bond having spent time with Hannes' family as a teenager ("You were like a brother to me, James", one can imagine Franz saying).
We know that in the film Franz Oberhauser will be a member of SPECTRE, but did Bond unwittingly motivate Franz to join (or set up) the organisation? Did Franz grow up blaming Bond for the death of his father? Is this the past alluded to in the cryptic message that sends Bond "on the trail to uncover a sinister organisation"?
If so, then this would have pleasing symmetry with the film "Octopussy" (1983). In that film. Octopussy (Maud Adams) brings Bond to her palace to that she can thank Bond for giving her father, a traitor, the opportunity of committing suicide, rather than face the dishonour of a trial. In SPECTRE, Franz Oberhauser may wish to punish Bond for the death of his father, who was killed by Octopussy's father.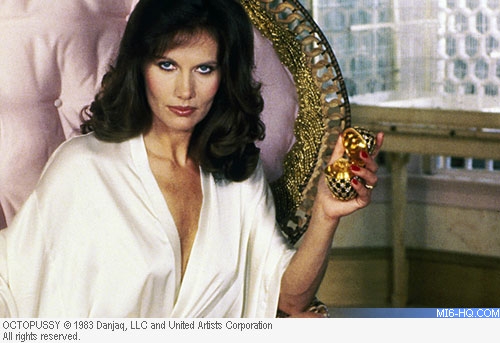 This is of course fanciful speculation, but the allusion to Hannes Oberhauser and the short story 'Octopussy' through Christoph Waltz's character raises many interesting questions. Whatever appears on screen come November, Spectre is certain to be spectacular, complete with thrilling action, witty dialogue, and of course, snow.
You Might Also Like
Biography
MI6 profiles the Austrian actor who will play Franz Oberhauser in the 24th 007 adventure, SPECTRE
Opinion
Guest writer David Leigh explains how revisiting Ian Fleming will help Blofeld escape the spectre of Dr Evil
---
Get Bond in Your Inbox
Sign up for occasional email updates from MI6. Get notified of breaking Bond news, and digests of recently releases features:
Share The Story
The opinions expressed in this review are those of the author and do not necessarily reflect those of MI6-HQ.com or its owners.