SPECTRE Speculative (2)
11th January 2015
Adam Bollard reflects on the first scene shot at Pinewood on 8th December and what it might have in store for 007 in SPECTRE
---
There are some dates that will be forever etched on the memories of Bond film fans - October 5 1962 (the day of the "Dr No" premiere)... July 7 1977 (the catchy-sounding day "The Spy Who Loved Me" opened)... October 26 2012 (the day the world finally got to see the golden-anniversary-celebrating "Skyfall"). And now there's a new one to add to that pantheon: Monday 8 December 2014.
It was on this morning that SPECTRE, EON Productions' latest adventure for the big screen Bond, began filming. Sam Mendes first announced the start of principal photography four days earlier at a Pinewood-based press event. But on the day cameras rolled the official social media channels released an image and within minutes it had, Bond-like, jet-setted its way around the globe. More than two years on from "Skyfall"'s release - 773 whole days to be exact - the next Bond film was finally in production. Fans around the world rejoiced, but what exactly was happening that sent them into delirium?
Superficially we knew very little about what was being filmed that day; very little about the very first scene of SPECTRE to go before the cameras. But dig a little deeper and we can unearth a bit more. Or at least make an informed guess.
First things first, what does the image contain? A clapperboard, in traditional style, across which is sprawled the film's title in its cool yet eerie official font, as well as the day's date, the names of the director (Sam Mendes) and director of photography (Hoyte van Hoytema), followed by the scene number as listed chronologically in the script ('21A'), the scene's take number ('1' - the very first take of the movie) and the time of day detailed in red LED lights. Sitting to the right of the clapperboard - on a wooden table - is a very familiar figure: the divisive porcelain paperweight that's 'Jack', the white bulldog wearing a Union Jack flag, whom had sat in the office of Judi Dench's M in "Skyfall", before being bequeathed to Bond at the film's end.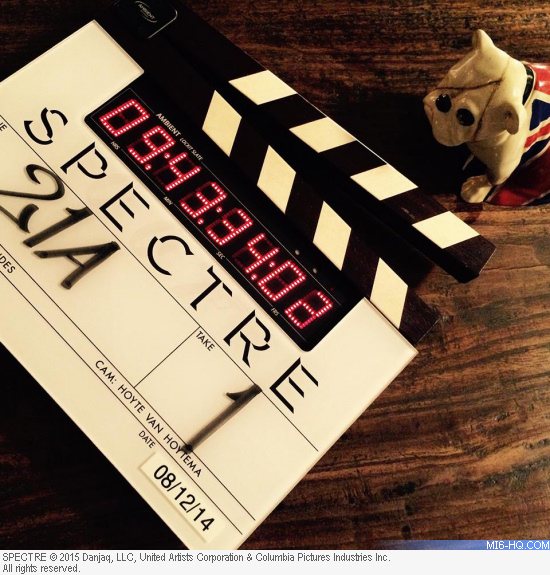 Now what does the bulldog paperweight's presence in this scene, the first to be shot for the new Bond film, tell us? Well, on a very obvious level, the message from EON is clear - this is all about continuation. Picking up where Skyfall ended. We know from interviews with cast and crew when SPECTRE's title was announced that the movie's plot will be driven in some way by something connected to the previous M - something she was hiding maybe? The presence of 'Jack' in this scene - and specifically the decision to include him in the 'clapperboard image' - seems to confirm this. It seems to be EON putting this message front and centre to the audience, in fact.
Moreover, eagle-eyed Bond fans may have spotted something else, for the scene number on the clapperboard here is comparable in Skyfall terms to that which came straight after the film's pre-title sequence, in which M was in her MI6 office writing Bond's obituary, suspecting him dead following the botched pre-title mission. This may be joining dots where there are none, admittedly, but if EON want fans to scratch deeper than the surface when considering the image, then this fact only seems to underline the continuation-from-Skyfall-and-legacy-of-Dench's-M message.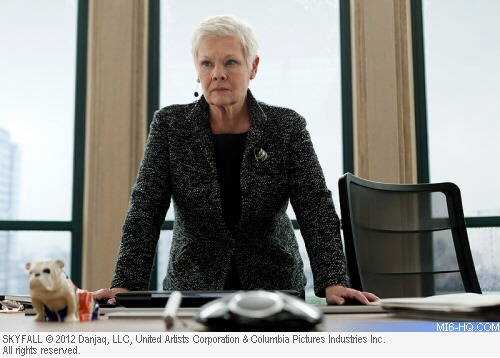 So what more do we know about the image? Well, in fact, the scuttlebutt is that this first scene to be filmed was set in Bond's apartment. Many 007 fans have wanted some sort of work-invading-Bond's-domestic-life scene to find its way back into the movies and will be pleased to discover this appears to be what we're getting (not least because photos swamping the internet a few days later showed Naomie Harris' Moneypenny speaking to/ walking away from Bond, himself in a dressing gown looking down from a window of what has to be his Central London home).
Now, this gets us to thinking about when Bond's pad has previously appeared in the EON series. It's only happened twice before, in the opening movies of Sean Connery and Roger Moore's tenures, "Dr No" and "Live and Let Die", respectively. Is there anything to be gleaned from this? Well, maybe there is. For based on interviews with "Skyfall" and SPECTRE director Sam Mendes around the time of the former film's production, we know that "Live and Let Die" was the first Bond movie he ever saw and, unsurprisingly, remains one of this favourites. And it was in "Live and Let Die" that the Bond-apartment-scene featured not just 007 but Moneypenny, as it looks like it will in SPECTRE.
Plus, let's not forget, that (for Bond-heads at least) notorious even a little controversial Macau casino scene in "Skyfall", in which Bond escapes from an assailant by stepping on the back of a komodo dragon to climb up and out of the latter's pit while he and his prehistoric pals rush to make mincemeat of the hapless goon. For some it brings to mind - and perhaps even deliberately homages? - that classic moment in "Live and Let Die" when Moore's 007 escapes from a swamp full of alligators and crocs by swiftly hopping across the beasts' backs to the safety of dry land.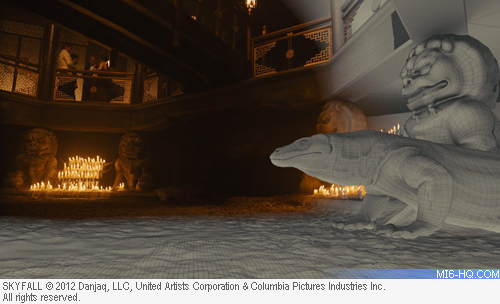 So Mendes loves himself some "Live and Let Die" and loves himself some classic EON Bond humour, which we know he chose to return in "Skyfall" at deft moments. Maybe that message isn't necessarily being put out in this 'clapperboard image', but then maybe it reminds us of it - SPECTRE, with Mendes at the helm, will surely also in tone and atmosphere be a continuation of "Skyfall"; it will deliver the same sort of moments of classic 007 humour that delight hardcore and casual Bond fans around the world.
Now, let's not get too far ahead of ourselves, SPECTRE will obviously be its own film too. It will be bringing us a brand-spanking new Aston Martin, a new M in the shape of Ralph Fiennes, new villains and new locations. And, of course, it appears to be giving us the development of a 'new' SPECTRE organisation - and possibly a new Blofeld. All that has been exciting Bond aficionados to the max, as well it should. Yet, as EON have handily suggested to the entire world via their 'clapperboard image', we too should be excited about the "Skyfall"-continuation in terms of story, tone and atmosphere and the legacy of Judi Dench's M. Everybody seems to be hot on continuation in film franchises nowadays - and for good reason - and EON certainly know what they're about here.
Maybe then, the real question we ought to be asking ourselves is, well, the ultimate question - when we take all this into account, just where will the next film take James Bond himself?
You Might Also Like
Spectre (2015)
French actress Lea Seydoux has been cast in a Bond Girl role in the upcoming 24th 007 adventure
Photos
MI6 opens the image archives for Berenice Marlohe, who will play Séverine in 'Skyfall'
---
Share The Story
The opinions expressed in this review are those of the author and do not necessarily reflect those of MI6-HQ.com or its owners.