Famke Janssen (Xenia Onatopp)
Datastream
Actress: Famke Janssen
Character: Xenia Onatopp
Movie: GoldenEye
Date of Birth: 01/01/64
Height: 5' 11"
Place of Birth: Netherlands
Trivia: Can speak four languages: Dutch, English, French and German.

"This time, Mr. Bond, the pleasure will be all mine."

Pleased To Meet You
Bond runs into Onatopp in a seemingly innocent driving challenge, but this casual competition between the driver of an Aston Martin (Bond) and a Ferrari (Onatopp) is the beginning of what proves to be a fiercely competitive relationship.

Caught In The Act
The best way to describe it is "roughly sensual", as Xenia and 007 do not share the same definition of safe sex. They do connect, however, in a spa complex, where Bond attempts to pump Onatopp for some critical information.

Famke Janssen Image Gallery
Profile
Famke Janssen plays GoldenEye's feisty henchwoman, Xenia Onatopp. Xenia lives life "in the fast lane" and enjoys a good squeeze more than your average girl; using this to her advantage in a set of unique assassinations. Bond uses Onatopp as his connection to the man he's chasing, the head of the Janus Crime Syndicate, the person who is responsible for the destruction of a Russian secret weapons facility. In fact, Xenia works closely with rogue Russian General Ourumov to hijack the GoldenEye and deliver it to Bond's ex-partner, Alec Trevelyan.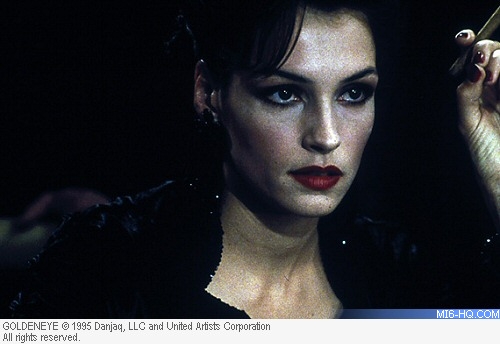 "I had to ventilate someone."
Xenia later meets her end in Cuba, where she battles with Bond for the last pleasure. But, this final occasion, Bond gets on top of things. Xenia's mission is cut short when Bond dispatches with the helicopter she has abseiled from - with the pilot out of commission the chopper flails wildly and Onatopp is strangled between branches, still attached to the craft.
Memorable Quotes
Xenia: Enjoy it while it lasts.
Bond: Those are the words I live by.
Onatopp: You don't need the gun.
Bond: Well, that depends on your definition of safe sex.
Bond: I must say, I've had a lovely evening.
Onatopp: Well, once again the pleasure was all yours.
Bond: That's close enough.
Xenia: Not for what I have in mind.
Bond: How do you take it?
Xenia: Straight up… With a twist.
Bond: It appears we share the same passions: three, anyway.
Xenia: I count two: motoring and, uh, baccarat. I hope the third is where your real talent lies.
Bond: One rises to meet a challenge.
Biography
Famke Janssen was born Famke Beumer, in January of 1964, in Holland. She began her career as a model and later, in the '80s, Janssen moved to New York. There she studied at Columbia University, majoring in writing and literature.

Famke soon landed TV roles in programmes such as Star Trek - Next Generation (1992) and The Untouchables also in '92. That same year Famke Janssen made her feature film debut, staring in the film Fathers & Sons, alongside Jeff Goldblum.

Famke has since gone on to star in the Hollywood blockbusters X-Men and its sequel, X2. Both films also starred "Die Another Day" Bond girl, Halle Berry.

In the mid nineties Janssen married small-time director/writer Tod Williams. However in early 2000 their divorce was arranged.

Janssen is one of three sisters, all of whom are in the film business. Sister, Antoinette Beumer, has made her way as a director whilst Marjolein Beumer has also taken up acting, playing minor roles in the TV series Survival and a short film, Long Distance.