The Man With The Golden Gun Premiere
19th December 2014
MI6 looks back at the Leicester Square premiere of 'The Man With The Golden Gun' held on this day 40 years ago
By MI6 Staff
---
The production of 'The Man With The Golden Gun' was either a pleasure or a pain, depending on which side of the production you worked. Whilst filming went smoothly and to a brisk schedule, a feat all the more impressive considering the remote location work in the Far East, tensions behind the scenes were at an all time high between producers Cubby Broccoli and Harry Saltzman. It was the former who had taken the lead role on 'Golden Gun', whilst the latter was engineering a drawn-out exit from Danjaq.
Returning once again to the Odeon theatre in Leicester Square, London, on 18th December 1974, 'The Man With The Golden Gun' welcomed Prince Philip for its Royal Premiere. Roger Moore was joined at the event by cast members Herve Villechaize, Maud Adams and Britt Ekland.
Meanwhile, horror star Christopher Lee - who played the central villain Scaramanga - traveled to Los Angeles, USA, to promote the movie on the Johnny Carson show. Unfortunately, lacking a sense of humour and warmth to the British spy series, US customs confiscated the golden gun upon his arrival to the country.
Opening the same day in the UK, USA, Denmark and West Germany, early box-office returns for the film were impressive.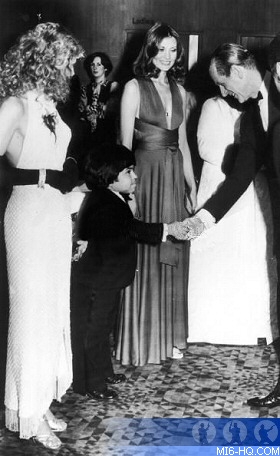 But no sooner had the curtain gone up on the major territories, than audience numbers dropped off dramatically. The ninth James Bond film had no staying power. Grossing just under $21m in the USA, the low box-office number didn't help to mask the real problem: attendances in America had dropped to just 10.25 million - the lowest ever in series history.
Playing opposite 007 in the US was "The Godfather: Part II" and "Young Frankenstein", both in their second week of release. They earned three and four times 'Golden Gun's box-office respectively.
Despite taking in a healthy return of $97.6m worldwide from a production budget of just $7m, it was a steep drop for EON and necessitated a rethink. A year after the film opened, United Artists bought out Harry Saltzman's half of Danjaq and the retooling began.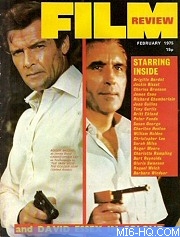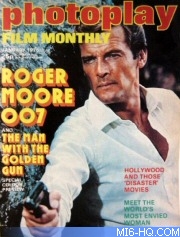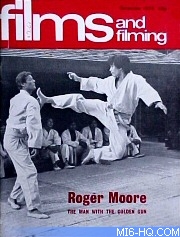 Critical Reaction
"The flying car, in fact, is much like what is wrong with The Man with the Golden Gun and what has been wrong with the whole Bond series for a while. Over tricky, uninspired, these exercises show the strain of stretching fantasy well past wit. The best Bonds, like the car that twirls, were sly without quite getting silly. The best Bonds also had Sean Connery, whose absence is sorely felt here." - TIME Magazine
"Guy Hamilton goes through his paces once again with admirable stoicism and occasional flair. But he can't disguise the fact that this script is just about the limpest of the lot" - The Guardian.
"The only energetic moments are provided by Herve Villechaize, as a midget gifted with mocking authority, and Christopher Lee as the golden gunman-both have a sinister vitality that cuts through the narrative dough. The movie also includes some beautiful glimpses of Thailand. But if you enjoyed the early Bond films as much as I did, you'd better skip this one." - New York Times
"There seems to have been hardly and attempt to interest us in characterisation, least of all with Roger Moore who plays Agent 007 with a negative kind of smug roguishness" - The Sunday Telegraph
"Guy Hamilton's direction and the screenplay are comparatively placid and even monotone. At this rate, the tenth film might be phoned in." - Variety
"The sole inspiration is actually the casting of Christopher Lee. [He] plays the role lightly, urbanely, with a smile on the killer's face. He and the camera crew carry off the major honours of the movie." - Monthly Film Bulletin
You Might Also Like
Events
The Bond star is set to reprise his popular UK tour this coming October and November
---
The Man With The Golden Gun
Share The Story