| | |
| --- | --- |
| | Read the MI6 spoiler-free take on "Skyfall" as guest writer Ben Williams reports from the first press screening... |
Skyfall Reviewed
13th October 2012
James Bond is finally back on our screens, and - as promised by Daniel Craig at the "Skyfall" press conference back in November of last year - this is Bond with a capital "B". Director Sam Mendes takes on the tried and tested formula of the Bond films, but rather than create a mere pastiche, he imbues the film with a sense of freshness. We are thrown right into the action in a stunning pre-titles sequence set in Istanbul, where Bond (Craig) and field agent Eve (Naomie Harris) must retrieve a stolen hard drive containing the names of imbedded NATO operatives from the formidable assassin Patrice (Ola Rapace).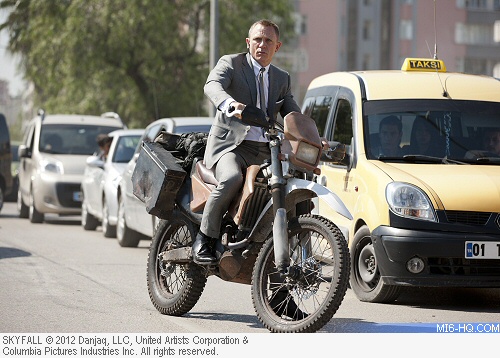 Within the first few minutes, it's clear that we have a superior Bond film on our hands. The tension is skillfully racked up by Mendes, whilst the superb cinematography by Roger Deakins makes the best of the stunning locations. The action is handled brilliantly, with incredible stunt work, but it is the performances here, particularly from Dame Judi Dench, that set this pre-titles sequence apart, as she makes a decision with steely-eyed determination that will have consequences for Bond and reveal insights into the villain's motives. From here, we plunge into a fabulous credits sequence by Daniel Kleinman that makes strong references to the theme of the film, whilst Adele's "Skyfall" marries perfectly with the imagery.
We rejoin M, who faces questions about her handling of the loss of the hard drive in Istanbul. Dench, who plays M with an almost Churchillian determination and inscrutability, delivers by far her best turn in the role.
However, as MI6 come under attack, they are forced relocate to a new headquarters, where M must confront her past decisions. Bond, alienated and alone, is also faced with a choice between his resentments and his sense of duty.
Before either Bond or M can act, they must both face questions of their age and relevance - no doubt a subtle reference to the franchise's own longevity. Indeed, M has become isolated and hardened by having to sacrifice compassion for what needs to be done, whilst Bond seems a much older, far more jaded character than we have ever seen him before.
These perceived weaknesses are picked up on by Ralph Finnes' Mallory - a man who has no time for sentiment and who considers neither M nor Bond to be up to the task. An opinion shared, although somewhat more jovially, by Ben Wishaw's Q. The character delights in goading 007, whilst Naomie Harris' Eve relishes flirtatiously teasing Bond about his abilities.
So, it is this Bond, weakened both physically and mentally, that sets off in pursuit of Patrice, his only link to the man behind the attack. Teaming up once again with Eve - who is, it seems, happy to keep more than just an eye on him - Bond's mission takes him to the incredible, neon-lit world of Shanghai's skyscrapers, where he first sets eyes the beautiful and broken Séverine (Berenice Marlohe). Following a lead, Bond once again encounters Séverine again at a lavish floating casino, where he persuades her to take him to meet her employer and the man behind the attacks, Silva (Javier Bardem).
It has to be said that Silva is one of the more memorable villains in the franchise's long history. Javier Bardem's portrayal is camp and almost comic, yet pathological and deranged. He is one-eyed in his desire for revenge, a rat caught in a trap of his own making.
It seems as though Silva has been orchestrating events all along, and this results in more chaos and mayhem in London, in which Ben Wishaw's Q and Craig's Bond really come into their own. Wishaw manages to deliver familiar lines of dialogue whist neatly avoiding the pitfalls of cliché, whilst 007 demonstrates that "human intelligence" is still very much a requirement of our Security Services.
However, Silva proves to be too dangerous a man to take on his own terms, and Bond is forced to redress the balance in a third act that has more in common with a certain Peckinpah film (or perhaps Mendes' own "Road to Perdition") than James Bond, and is unlike anything we've seen in the franchise so far. That's not to say it's not 'Bondian'. We see the return of the DB5 and there are some personal resonances for Bond with the location, but this is about as far from the "exploding control room" as you can get. The resolution will, no doubt, divide fans and critics, but the dénouement is particularly satisfying.
Ultimately, Mendes delivers an assured, accomplished Bond film that stands somewhere between delivering what the public expects from a Bond film and creating something original and new. His Bond is certainly more nuanced and intricate and instilled with a sense of Britishness that befits 007's fiftieth year on the screen.
Bond is most certainly back.