"GoldenEye" ushered in a new 007 in the guise of Pierce Brosnan, after Timothy Dalton's option on a third Bond adventure expired amid the legal hiatus between Bonds #16 and #17. Also new on the scene were producers Barbara Broccoli and Michael G. Wilson, taking over the prestigious job from Albert R. "Cubby" Broccoli. Conscious of the brutality of Bond's vengeful mission in "Licence To Kill" and its lukewarm reception at the box office, newest Bond scribe Michael France would dial back on the gore, but what became "GoldenEye", starring Pierce Brosnan, still retains some recognisable traits of the cold-bloodedness that characterised the Dalton era.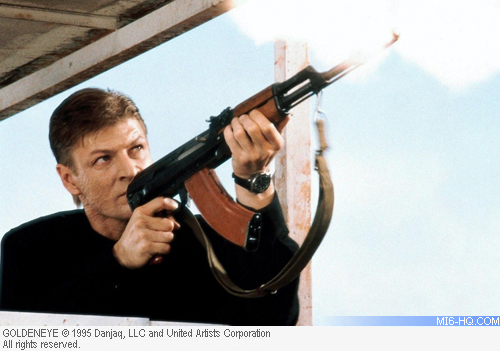 The story, again, is personal. Bond is betrayed by a fellow 00-agent and a professional alliance shattered as Cossack Alec Trevelyan (Sean Bean) turns against his adopted home of Britain. He plots to hold the country to ransom with the GoldenEye EMP device, which will take Britain back to the stone age, and it is left to Bond and space satellite programmer Natalya Simonova to stop Bond's vengeful, former ally.
The climax takes place at the Severnaya GoldenEye control centre Trevelyan has constructed in Cuba, and after Bond has staged the assault on the base, he and the villain take to satellite control centre's high wires in a brutal and utterly personal battle of wills.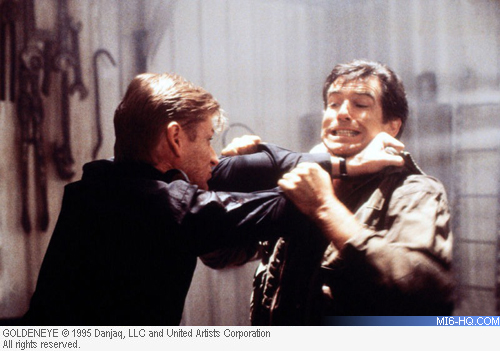 Trevelyan and Bond hang precariously from the guts of GoldenEye facility as it self-destructs around them, both wounded and tiring. Just when it looks like the villain has the upper hand, he is distracted by Natalya's hijacking of his helicopter and Bond claws back - dangling Trevelyan over the massive satellite dish by just his feet.

With the villain helpless and literally with his life in Bond's hands the plucky traitor takes the opportunity to mock 007 for his patriotism. Bond's fitting, personal retort cements the brutality of this kill.

Bond lets go, and Trevelyan plummets over 80 feet to the bottom of the dish. Yet, this is not the end... still conscious, the villain watches as Bond escapes by helicopter and the sharp, heavy remains of his satellite facility collapse on top of him.

Much of this final sequence was shot on location at the Arecibo radio telescope in Puerto Rico. Arecibo is the largest fixed radio telescope in the world and provided a stunning backdrop for the stunt team's antics. Certain elements of the telescope were recreated on the back lot of EON Studios, on which Brosnan and Bean could film closeups.


"For England James?"
"No, for me."