SPECTRE Action
22nd September 2015
A new video dives into the action and SFX that 007 veterans like Chris Corbould and Alexander Witt have assembled
By MI6 Staff
---
New footage from 'SPECTRE' explores the engaging and intricate stunt and special effect sequences cinemagoers can expect from the 24th 007 adventure. As ever the direct, Sam Mendes, and his crew are keen to highlight the do-it-for-real attitude that is a hallmark of the Bond films. Says Mendes: "The ultimate goal is the kind of excitement, visceral excitement, you can only get from live stunts."
"Coming into this film Sam has really upped the ante. We are going to be spread all over the place. We are going to Austria where we have a massive special effects/stunts sequence... We are doing all sorts of things in Mexico, big explosions, buildings collapsing... and then there's Morocco, which was a huge sequence for us. I certainly think it's the biggest explosion I have ever done." - Chris Corbould
SYNOPSIS
A cryptic message from the past sends James Bond (Daniel Craig) on a rogue mission to Mexico City and eventually Rome, where he meets Lucia Sciarra (Monica Bellucci), the beautiful and forbidden widow of an infamous criminal. Bond infiltrates a secret meeting and uncovers the existence of the sinister organisation known as SPECTRE.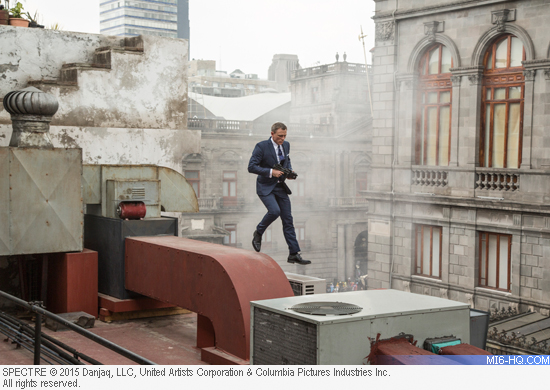 Meanwhile back in London, Max Denbigh (Andrew Scott), the new head of the Centre for National Security, questions Bond's actions and challenges the relevance of MI6, led by M (Ralph Fiennes). Bond covertly enlists Moneypenny (Naomie Harris) and Q (Ben Whishaw) to help him seek out Madeleine Swann (Léa Seydoux), the daughter of his old nemesis Mr White (Jesper Christensen), who may hold the clue to untangling the web of SPECTRE. As the daughter of an assassin, she understands Bond in a way most others cannot.
Spectre (2015)
Briefing
SPECTRE (2015) is the new James Bond film and the 24th in the series. It will be the fourth outing for Daniel Craig as 007, and the second film to be directed by Sam Mendes from a screenplay by John Logan, Neal Purvis & Robert Wade. The new MI6 team of Ralph Fiennes (M), Naomie Harris (Moneypenny), Rory Kinnear (Tanner) and Ben Whishaw (Q) are all reprising their roles. The cast will include Lea Seydoux, Dave Bautista, Andrew Scott and Christoph Waltz. Production commences on December 8th 2014, with location work as early as 5th January 2015 in Austria. The film will also shoot on location in: Erfoud and Tangier, Morocco; Rome, Italy and Mexico City, Mexico. SPECTRE is scheduled for release on 7th November 2015.
Share The Story