Detlef Bothe Speaks
1st March 2015
The German actor who played a significant role in the SPECTRE scenes set in Austria has spoken about the role and his casting
By MI6 Staff
---
Detlef Bothe was born in Brunswick, Germany in 1965. He has been acting since the early 1990s and has in over 70 films and television episodes but until recently has had few English-speaking credits to his name. The 49 year-old was recently spotted on location with the Bond crew filming SPECTRE in Austria opposite Ben Whishaw as Q.
"[I]t's a showdown in a cablecar," he says of the scene. This scene was recently part of a preview 007.com released, featuring Sam Mendes as he discussed his reason for helming back-to-back Bonds. "How it turns out, of course I will not tell," Bothe teases the German press.
Bothe joined the crew in January and first news of his casting appeared via his Facebook page: the actor posted a picture of himself at the ski resort of Sölden where he reveals that the 007 production crew numbered over 500.
The actor noted that he did not have any scenes with incumbent 007 star Daniel Craig, although he "just happened to see" the actor in Sölden one evening.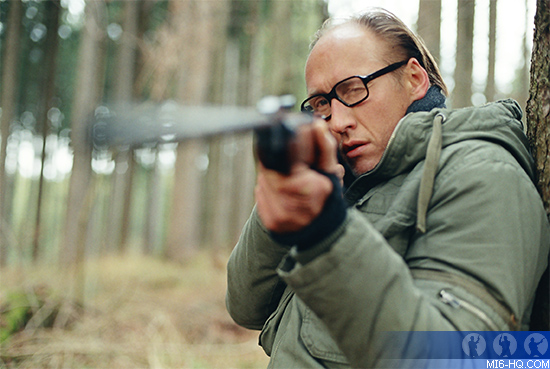 He also spoke about the casting process. He had expressed interest in Bond when Mendes was casting his first 007 adventure, the successful "Skyfall". His agents have since developed a healthy relationship with the Bond casting people. "I was invited to audition." He adds: "The casting was over two days in Berlin. There were between 60 and 80 people. Each of us had just 20 minutes - and I saw my hope already dwindling. But then a week later I got a call that director Sam Mendes wants to meet me." He was called to a meeting in Innsbruck and was amongst 10 candidates ready to meet the director. "Then I heard nothing for weeks and suddenly I get a call saying, 'You're it!' This was a very cool feeling."
You Might Also Like
Biography
MI6 profiles the Italian actress who will play Lucia Sciarra in the 24th 007 adventure, SPECTRE
Biography
MI6 profiles the Austrian actor who will play Franz Oberhauser in the 24th 007 adventure, SPECTRE
---
Spectre (2015)
Briefing
SPECTRE (2015) is the new James Bond film and the 24th in the series. It will be the fourth outing for Daniel Craig as 007, and the second film to be directed by Sam Mendes from a screenplay by John Logan, Neal Purvis & Robert Wade. The new MI6 team of Ralph Fiennes (M), Naomie Harris (Moneypenny), Rory Kinnear (Tanner) and Ben Whishaw (Q) are all reprising their roles. The cast will include Lea Seydoux, Dave Bautista, Andrew Scott and Christoph Waltz. Production commences on December 8th 2014, with location work as early as 5th January 2015 in Austria. The film will also shoot on location in: Erfoud and Tangier, Morocco; Rome, Italy and Mexico City, Mexico. SPECTRE is scheduled for release on 7th November 2015.
Share The Story