Behind The Scenes (2)
30th April 2015
A new video featuring Dave Bautista as Mr. Hinx looks at the filming of SPECTRE's intricate car chase set in Rome
By MI6 Staff
---
The latest video blog from the set of SPECTRE focuses on a car chase in Rome between the Aston Martin DB10 and the Jaguar C-X75. The video features Director Sam Mendes, actor Dave Bautista (Mr. Hinx), Special Effects Supervisor Chris Corbould, Stunt Coordinator Gary Powell, and Action Vehicles Technical Coordinator Neil Layton.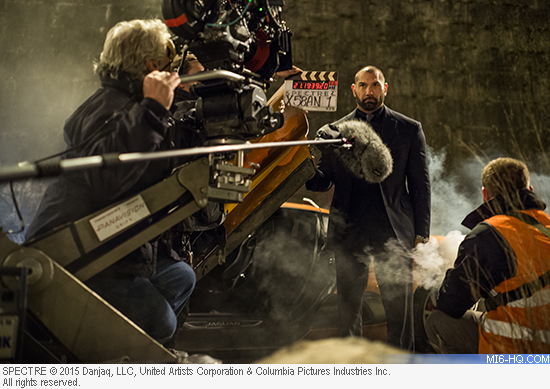 "I love the idea of this fantastic car being in a one-on-one battle with another incredible car from Jaguar, which is similarly extraordinary actually," says Sam Mendes. "So it's a cat-and-mouse game through the night time streets of Rome, at great speed, between two of the fastest cars in the world."
"It's amazing. It's one of those scenes that's going to be very iconic. Just with the two cars racing through the streets of Rome - I mean, how often do you see that? It's one of those things you only see in a James Bond film." - Dave Bautista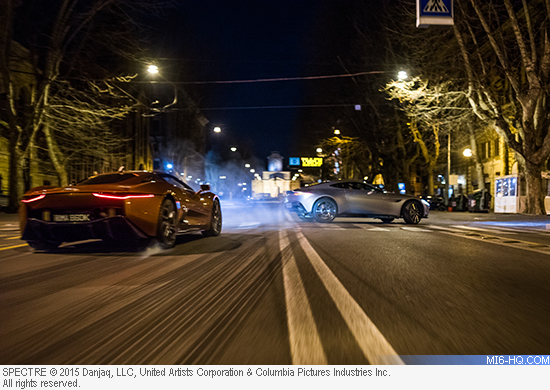 "We've got our hero Aston Martins, they're just pristine, they show their beauty. Then we've got stunt Aston Martins which are fully roll-caged up. Stunt drivers have been putting them through their paces." - Chris Corbould
You Might Also Like
Spectre (2015)
MI6 profiles Dave Bautista who will play the menacing henchman Mr. Hinx in the forthcoming 007 adventure, SPECTRE
Spectre (2015)
Daniel Craig and Monica Bellucci posed for the world's press in Rome today as SPECTRE filming moved on to Italy
---
Spectre (2015)
Briefing
SPECTRE (2015) is the new James Bond film and the 24th in the series. It will be the fourth outing for Daniel Craig as 007, and the second film to be directed by Sam Mendes from a screenplay by John Logan, Neal Purvis & Robert Wade. The new MI6 team of Ralph Fiennes (M), Naomie Harris (Moneypenny), Rory Kinnear (Tanner) and Ben Whishaw (Q) are all reprising their roles. The cast will include Lea Seydoux, Dave Bautista, Andrew Scott and Christoph Waltz. Production commences on December 8th 2014, with location work as early as 5th January 2015 in Austria. The film will also shoot on location in: Erfoud and Tangier, Morocco; Rome, Italy and Mexico City, Mexico. SPECTRE is scheduled for release on 7th November 2015.
Share The Story