Rome Prepares
11th December 2014
SPECTRE is assured its fair share of historic landmarks as the Italian capital readies itself for 007's arrival in February
By MI6 Staff
---
Sam Mendes confirmed at the December 4th press event what had been on the cards for some time, Craig's 007 would be making his third visit to Italy in SPECTRE. This time the production was bound for Rome, with first news of the location leaking to the local press in July 2014. Since then a major production presence sprung up in Cinecittá Studios, and details of the nature of the shoot emerged in local press reports.
It was recently reported that scenes would be shot on the banks of the Tiber, with historic locations including ancient road, Via Nomentana, and the Porta Pia, the ornate gate named after Pope Pius IV. Other landmarks expected to feature in the sequence are the Milvian Bridge, and the Piazza Navona.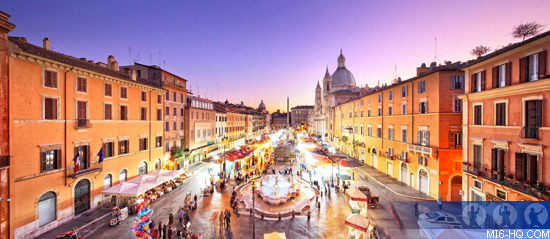 EON Productions will employ a full Italian crew, including stunt performers. According to Luciano Sovena, president of the Rome Lazio Film Commission, SPECTRE's shoot is expected to bring 50 million Euros to the local economy.
SPECTRE scenes shot in Rome will include a high octane car chase, featuring among other vehicles a Fiat 500. Some news outlets are reporting that this iconic Italian car will suffer a sticky end and it remains unknown who will be at the wheel. Another sequence is expected to involve 007 donning a parachute and jumping from a low-flying helicopter. Shooting in the Italian capital also expected to take place at an unspecified cemetery and villa.
Residents have been warned that shooting will take place predominantly at night, that serval routes will be closed, and that roads will be well lit to accommodate the filmmakers. Cameras mounted on drones will be one of the methods used to film the sequence. The shoot is expected to take place within a five week window between mid-February and mid-March 2015. Originally, it was reported that the crew would be shooting for a shorter period than this, three weeks between 19 February and 12 March. It is not clear for how much of that time the principal cast will be accompanying the local unit.
Production is currently under way at Pinewood Studios, whilst preparatory work is on schedule in London and Austria, where the cameras are expected to roll the first or second week of January.
You Might Also Like
Quantum Of Solace (2008)
From Italy to Haiti, Austria to Bolivia... MI6 follows 007's travels throughout the 2008 adventure "Quantum of Solace"
Quantum Of Solace (2008)
A third accident has struck filming of the opening car chase for "Quantum of Solace" on the banks of Lake Garda in Italy
---
Spectre (2015)
Briefing
SPECTRE (2015) is the new James Bond film and the 24th in the series. It will be the fourth outing for Daniel Craig as 007, and the second film to be directed by Sam Mendes from a screenplay by John Logan, Neal Purvis & Robert Wade. The new MI6 team of Ralph Fiennes (M), Naomie Harris (Moneypenny), Rory Kinnear (Tanner) and Ben Whishaw (Q) are all reprising their roles. The cast will include Lea Seydoux, Dave Bautista, Andrew Scott and Christoph Waltz. Production commences on December 8th 2014, with location work as early as 5th January 2015 in Austria. The film will also shoot on location in: Erfoud and Tangier, Morocco; Rome, Italy and Mexico City, Mexico. SPECTRE is scheduled for release on 7th November 2015.
Share The Story