High Altitude
13th December 2014
A splinter unit was spotted shooting scenes for SPECTRE near Sölden this week
By MI6 Staff
---
Although Daniel Craig and the SPECTRE first unit is not expected to arrive in Austria until the New Year, a splinter unit has been photographed at work on the Rettenbach Glacier near the small village and ski resort of Sölden. Locals spotted a twin prop painted with arctic camouflage flying overhead yesterday. Local citizen journalists snapped a few pictures of the shoot as it took place.
For some of the shots the plane was mounted with a camera and it is reported that it took several circuits of the area to capture the required footage. The same plane was previously spotted when the crew were readying locations in Obertilliach.
It has long been known that the Obertilliach shoot would involve an aircraft, and previously, power poles were removed along a forest path to prepare for a stunt sequence in which the plane crashes. It is understood by locals that the large structure built by the crew for the 24th Bond film in Obertilliach would be destroyed when the time came to film the crash.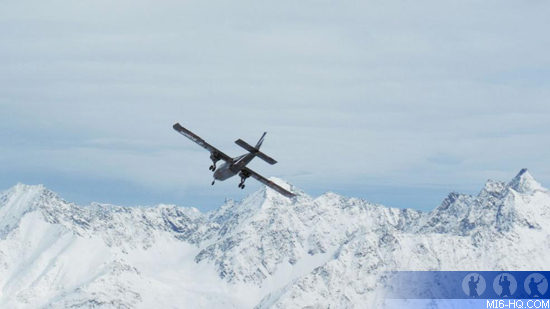 Visible in the photos is one of the 20 skidoos requisitioned by the SPECTRE production for use on the snow. The crew were also using Range Rovers and the Land Rover Defender to transport crew and equipment. The Defender was last seen in a Bond film when it was driven by Eve Moneypenny during the mission in Turkey on "Skyfall".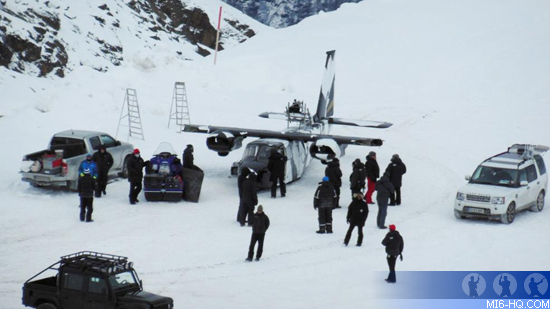 Even though this appears to just be a splinter unit capturing what is likely to be establishing shots for a more complex action sequence, local reports indicate that security was tight and the photographers were lucky to capture the shots that they did.
You Might Also Like
Biography
MI6 profiles the Austrian actor who will play Franz Oberhauser in the 24th 007 adventure, SPECTRE
Spectre (2015)
Construction has begun in Obertilliach, Austria, for Bond 24 location filming in January or February next year
---
Spectre (2015)
Briefing
SPECTRE (2015) is the new James Bond film and the 24th in the series. It will be the fourth outing for Daniel Craig as 007, and the second film to be directed by Sam Mendes from a screenplay by John Logan, Neal Purvis & Robert Wade. The new MI6 team of Ralph Fiennes (M), Naomie Harris (Moneypenny), Rory Kinnear (Tanner) and Ben Whishaw (Q) are all reprising their roles. The cast will include Lea Seydoux, Dave Bautista, Andrew Scott and Christoph Waltz. Production commences on December 8th 2014, with location work as early as 5th January 2015 in Austria. The film will also shoot on location in: Erfoud and Tangier, Morocco; Rome, Italy and Mexico City, Mexico. SPECTRE is scheduled for release on 7th November 2015.
Share The Story