Rome Filming (5)
4th March 2015
The night shoot in Italy continues with scenes captured near the Vatican
By MI6 Staff
---
Despite the principal cast having departed Rome for the UK and continued work on sets at Pinewood, James Bond's second unit has been hard at work on the streets of Rome for a shoot that rivals the infrastructure and presence of their Austrian visit earlier this year.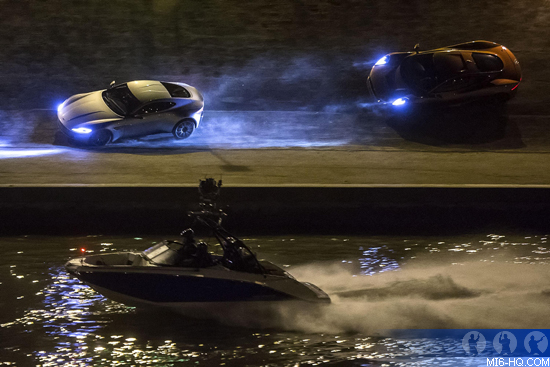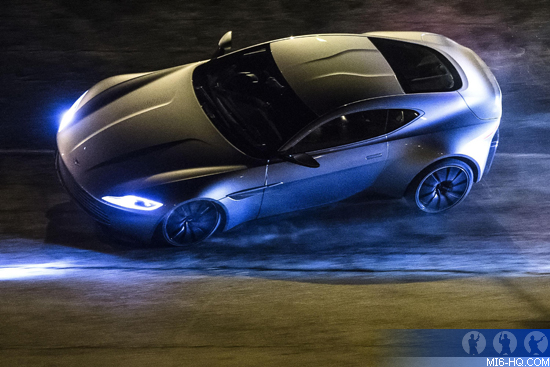 The Aston Martin DB10 and Jaguar C-X75, now with stunt-drivers behind the wheel, roared up the streets of Rome - and along the banks of the Tiber capturing scenes they were spotted rehearsing earlier - as well as passing near to the iconic Vatican city. The timing of this shoot is poignant: this week 20 years ago the Bond family was orchestrating another fantastic battle of the badges between Ferrari and Aston as Brosnan and his co-star Famke Janssen shot the famous downhill run in Monaco for "GoldenEye".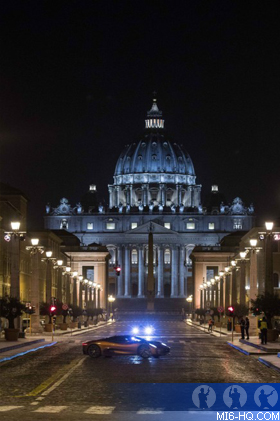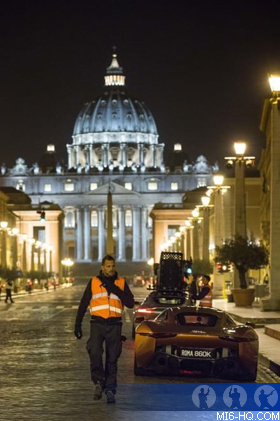 Whilst earlier shots called for a ride-on-top cab to accommodate the driver out of sight of the camera, thereby allowing Craig and Dave Bautista to take the wheel, these shots called for similarly specialised rigs, with cameras attached to the back of the Jag and the front of the Aston to capture the action as it happened and get a sense of the driver's perspective.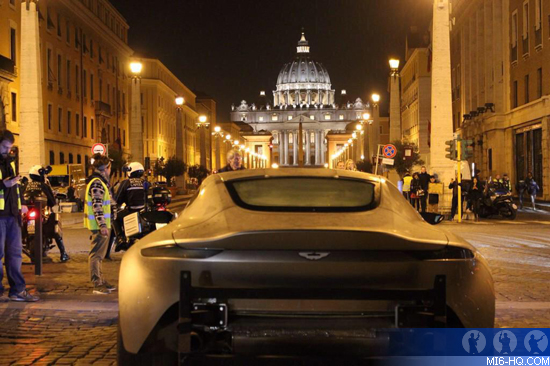 It is understood that the sequence also calls for a parachute jump to be staged, with Bond jumping from a low-flying helicopter.
You Might Also Like
Spectre (2015)
The night-time shoot for SPECTRE's big car chase started in Rome on Monday evening
Spectre (2015)
Daniel Craig and Rory Kinnear returned to the River Thames for more SPECTRE shooting today
---
Spectre (2015)
Briefing
SPECTRE (2015) is the new James Bond film and the 24th in the series. It will be the fourth outing for Daniel Craig as 007, and the second film to be directed by Sam Mendes from a screenplay by John Logan, Neal Purvis & Robert Wade. The new MI6 team of Ralph Fiennes (M), Naomie Harris (Moneypenny), Rory Kinnear (Tanner) and Ben Whishaw (Q) are all reprising their roles. The cast will include Lea Seydoux, Dave Bautista, Andrew Scott and Christoph Waltz. Production commences on December 8th 2014, with location work as early as 5th January 2015 in Austria. The film will also shoot on location in: Erfoud and Tangier, Morocco; Rome, Italy and Mexico City, Mexico. SPECTRE is scheduled for release on 7th November 2015.
Share The Story