Mexico Filming (3)
26th March 2015
Learn what lies in store for the 'SPECTRE' pre-credits sequence shot on location in Mexico City (spoilers)
By MI6 Staff
---
This article contains potential spoilers.
Italian actor Alessandro Cremona plays Marco Sciarra, the protagonist of the 'SPECTRE' pre-credits sequence, filmed on location with Daniel Craig this week.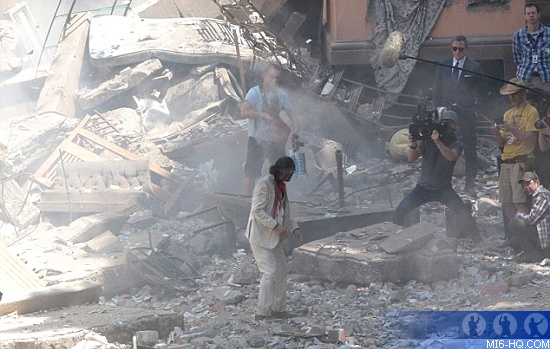 As these location photos from Tuesday 24th March reveal, Bond and Sciarra face-off in the streets of Mexico City during the Day of the Dead festival. Other shots captured on location included a large explosion, a shoot out and a collapsing building.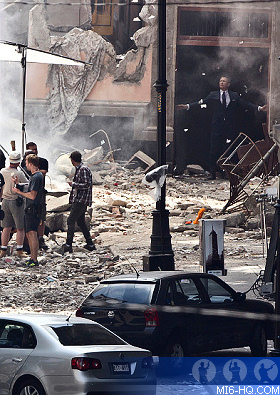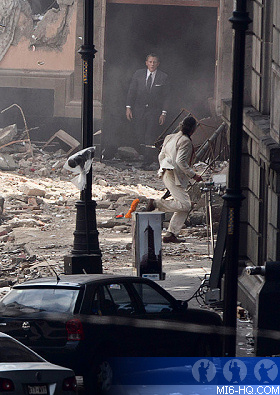 Last week's video showed Alessandro Cremona in a white suit during the parade scenes.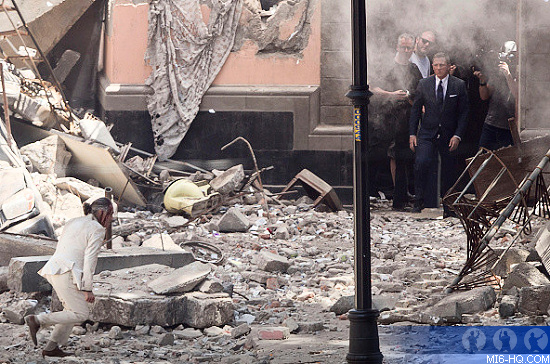 Earlier filming in Rome showed Monica Bellucci, who plays Lucia Sciarra, attending her husband's funeral. It is probably safe to assume that Marco Sciarra will not survive the high-octane opening sequence.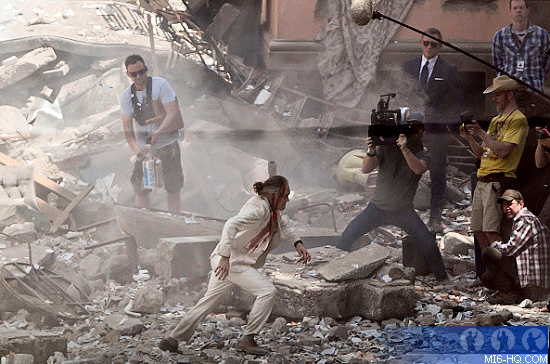 Mexican actress Stephanie Sigman, who only appears in the pre-credits action, will be Bond's accomplice in the field.
You Might Also Like
Spectre (2015)
Stunt doubles clung on as the 'SPECTRE' helicopter action sequence climaxed in Mexico City today
Spectre (2015)
Daniel Craig's stunt double donned a prosthetic mask for the helicopter action sequence in Mexico City yesterday
---
Spectre (2015)
Briefing
SPECTRE (2015) is the new James Bond film and the 24th in the series. It will be the fourth outing for Daniel Craig as 007, and the second film to be directed by Sam Mendes from a screenplay by John Logan, Neal Purvis & Robert Wade. The new MI6 team of Ralph Fiennes (M), Naomie Harris (Moneypenny), Rory Kinnear (Tanner) and Ben Whishaw (Q) are all reprising their roles. The cast will include Lea Seydoux, Dave Bautista, Andrew Scott and Christoph Waltz. Production commences on December 8th 2014, with location work as early as 5th January 2015 in Austria. The film will also shoot on location in: Erfoud and Tangier, Morocco; Rome, Italy and Mexico City, Mexico. SPECTRE is scheduled for release on 7th November 2015.
Share The Story