SPECTRE Complaints
30th June 2016
'SPECTRE' was the most complained about film in 2015 according to the annual BBFC report
By MI6 Staff
---
'SPECTRE' was the most complained about film in 2015 according to the annual report from the British Board of Film Classification. 40 individuals lodged complaints that the film was not inline with the standards for a '12A' certificate.
The first scene to cause offence was the SPECTRE board meeting in Rome where Mr Hinx gouges out the eyes of his challenger before breaking his neck.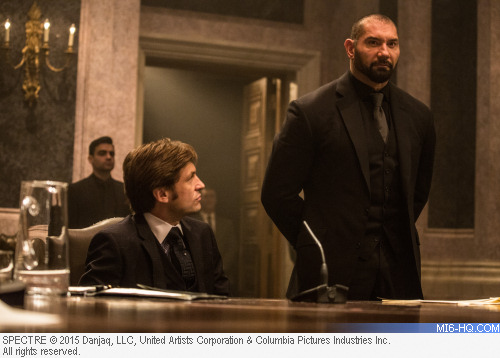 David Austin, chief executive of the BBFC, said: "By our standards it is quite a lot of complaints but the box office for Spectre is £94m so in context it is a tiny proportion."
The second scene that generated reports for the BBFC was when Bond is tortured in the dental drill scene near the film's climax. The film doesn't show any blood (except a little drip at the end), "instead uses sound and Bond's facial expressions to suggest his pain," the report added. "Given the lack of detail, and the audience expectation that Bond will inevitably escape and survive such threats, the scene is within the BBFC guidelines' allowance for depictions of violence at 12A."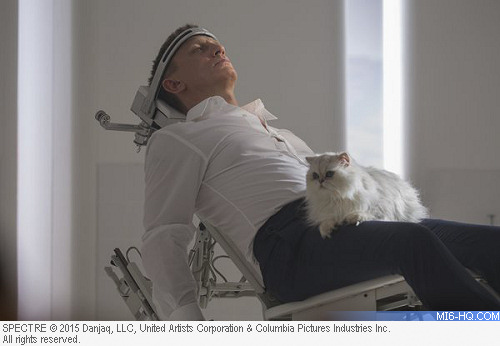 'SPECTRE' did undergo some minor changes to secure the 12A certificate from BBFC guidance, rather than being saddled with a 15 rating that would have reduced the box-office. One tweak included taking out some of the blood from the eye-gouging scene. "Once the edits had been made we didn't really think SPECTRE pushed the boundary of 12A. It was solidly in the category and not borderline."
Daniel Craig's era of James Bond films have often raised complaints with the BBFC due to the shift towards a grittier tone.
Spectre (2015)
Briefing
SPECTRE (2015) is the new James Bond film and the 24th in the series. It will be the fourth outing for Daniel Craig as 007, and the second film to be directed by Sam Mendes from a screenplay by John Logan, Neal Purvis & Robert Wade. The new MI6 team of Ralph Fiennes (M), Naomie Harris (Moneypenny), Rory Kinnear (Tanner) and Ben Whishaw (Q) are all reprising their roles. The cast will include Lea Seydoux, Dave Bautista, Andrew Scott and Christoph Waltz. Production commences on December 8th 2014, with location work as early as 5th January 2015 in Austria. The film will also shoot on location in: Erfoud and Tangier, Morocco; Rome, Italy and Mexico City, Mexico. SPECTRE is scheduled for release on 7th November 2015.
Share The Story