Record Boom
10th November 2015
'SPECTRE' earns a Guinness World Record for the Largest Film Stunt Explosion
By MI6 Staff
---
SPECTRE has been awarded a Guinness World Records title for the Largest Film Stunt Explosion it was announced today in Beijing, China. Producer Barbara Broccoli, Daniel Craig and Léa Seydoux, accepted the record certificate on behalf of winner Chris Corbould, who served as Special Effects and Miniature Effects Supervisor on SPECTRE.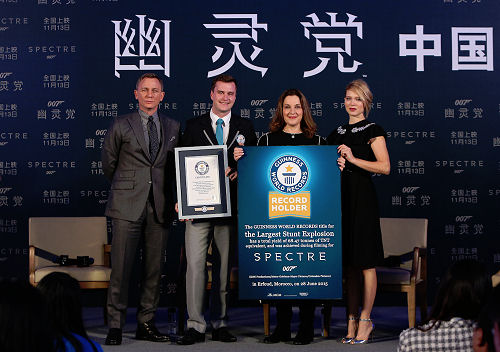 The explosion was filmed for a pivotal scene in the film that took place on June 28, 2015 in Erfoud, Morocco and used 8418 litres of fuel and 33kg of explosives.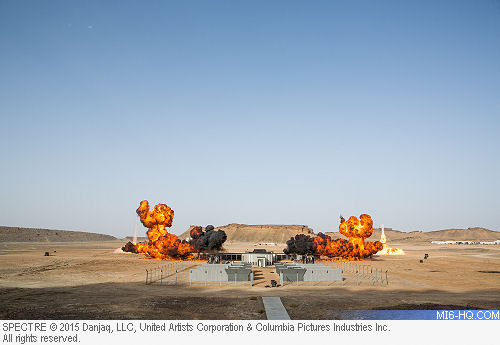 Commenting on the announcement, Michael G. Wilson and Barbara Broccoli, the producers of SPECTRE, said, "It is absolutely tremendous that the Guinness World Records have recognised Chris Corbould's incredible work in SPECTRE in which he created the largest explosion ever in film history."
Spectre (2015)
Briefing
SPECTRE (2015) is the new James Bond film and the 24th in the series. It will be the fourth outing for Daniel Craig as 007, and the second film to be directed by Sam Mendes from a screenplay by John Logan, Neal Purvis & Robert Wade. The new MI6 team of Ralph Fiennes (M), Naomie Harris (Moneypenny), Rory Kinnear (Tanner) and Ben Whishaw (Q) are all reprising their roles. The cast will include Lea Seydoux, Dave Bautista, Andrew Scott and Christoph Waltz. Production commences on December 8th 2014, with location work as early as 5th January 2015 in Austria. The film will also shoot on location in: Erfoud and Tangier, Morocco; Rome, Italy and Mexico City, Mexico. SPECTRE is scheduled for release on 7th November 2015.
Share The Story